WhatsApp Bulk Messages: Strong Cornerstone for Scaling Your Enterprise on WhatsApp
April 19th, 2023 — by Zivko A.
10 min read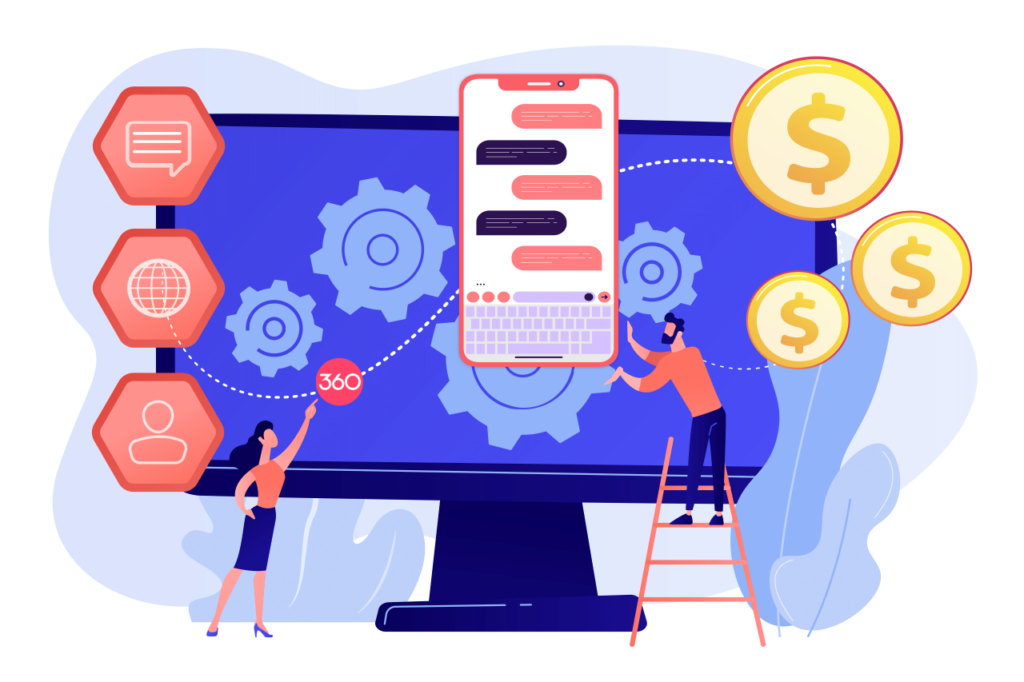 Share this article
Sending bulk messages on WhatsApp gives businesses the ability to create and forward messages simultaneously to thousands of WhatsApp contacts. It is one of the main reasons why WhatsApp became the go-to platform for businesses looking to connect with customers.
In this article, 360dialog answers the most important questions about WhatsApp bulk messages and why they are such an essential marketing tool for all API users.
What are your options for sending bulk messages on WhatsApp?
In theory, there are three known methods that businesses can turn to:
Unofficial tools. Bulk message senders that are free but not affiliated with WhatsApp and use workarounds without regard to WhatsApp Policies.
WhatsApp Business app. Official WhatsApp solution with basic features, suitable for micro-small businesses that want to test the option of broadcast messaging on a limited number of contacts (up to 256 contacts).
WhatsApp Business API. A solution that offers an easily customizable WhatsApp bulk message sender with scalable messaging options, supported integrations, and is in compliance with WhatsApp policies.
In reality, while all three methods are functional, WhatsApp Business API is the only solution that allows businesses to scale messaging potential to thousands of recipients with a minimal chance of getting banned by WhatsApp.
Why is WhatsApp API the best choice for bulk messaging?
Automated messaging
With the WhatsApp API, businesses can automate the process of sending WhatsApp messages to thousands of prospects. This ensures that all WhatsApp messages are sent consistently and reliably while saving hours of time on manually preparing and sending messages.
Medium-sized and large enterprises can easily schedule and manage WhatsApp conversational flows, with minimized operational costs and human error.
All WhatsApp bulk messages sent through the API are encrypted and protected in a way that upholds GDPR and WhatsApp standards. Users are able to opt out with the click of a button.
With the integration-friendly options of 360dialog's WhatsApp API, businesses can simultaneously message multiple contacts in their CRM database, improving productivity and responsiveness in the process.
Personalized messaging
Established brands build stronger relationships with customers by delivering content that is relevant and engaging to them.
Businesses that use the 360dialog WhatsApp API platform are able to profile customers based on location and demographics. Understanding your customers helps you send bulk messages on WhatsApp that are more relevant to a specific group of people, making those messages more personal.
Improved customer engagement
WhatsApp is a globally used messaging platform, with over 2 billion active users. In 2022, people spent a global average of 17 hours per month on WhatsApp (April 3rd, 2023 – Statista). The potential is there – it's simply a matter of whether your business is profiting from it or not.
By using the WhatsApp API to send WhatsApp bulk messages, businesses can reach a large audience and engage with customers in real time. And with the option of using interactive and multimedia broadcast messages, it becomes easier to guide users through the WhatsApp sales funnel, guaranteeing improved customer satisfaction and loyalty in return.
Increased reach
WhatsApp API enables businesses to send messages to WhatsApp users all over the world, regardless of their location.
With 360dialog's WhatsApp campaign tracking and attribution, businesses are in a better position to expand their reach and target new markets, which can lead to increased sales and revenue.
Cost-effective
Compared to traditional marketing channels, sending bulk messages through the WhatsApp API can be a cost-effective solution. With no additional hardware or software required, businesses can save on infrastructure costs and still deliver high-quality messaging to their customers.
Example: With 360dialog's WhatsApp API solutions and Marketing Automation team, India-based businesses that invest €600 per month in 360dialog's solutions and €4,000 in Conversation-Based Pricing (CBP) fees would be able to secure up to 727,000 business-initiated conversations or 1,212,000 user-initiated conversations per month.
Want to know how many messages you'd be able to send from other countries? Check out the conversation-based pricing tariffs on Meta here.
Risk control and management
Established enterprises that are looking to invest large amounts of money into WhatsApp campaigns need to search for solutions that can guarantee success. As good as they might sound, cheap do-it-yourself solutions can't deliver top results, especially for established companies.
Combining a flat-rate API with the premium technical support of a professional marketing automation team, on the other hand, can guarantee quality results. Turning to official WhatsApp API solution providers such as 360dialog increases the chance of ensuring a successful outcome from sending bulk WhatsApp messages.
How does using the WhatsApp API minimize risks?
Opting for the API solution eliminates the limitations of using the app and the unknown outcomes of using unofficial tools. It offers a safe way to reach the highest number of users. It also helps with managing all the risks involved with launching a big marketing campaign with the use of WhatsApp bulk message software.
What are the risks of sending bulk messages on WhatsApp without an official API provider?
Violation of WhatsApp policies or updates.
Unreliable and harmful to brand image.
Inability to get a WhatsApp Green Tick Verification.
Higher chances of getting banned.
Limited messaging tiers.
No integration or chatbot options.
No multi-agent access.
Lower standard of customer service.
No access to technical documentation.
What should API users know before sending bulk WhatsApp messages?
To prevent dissatisfaction and protect users from spam, WhatsApp has protective measures that encourage businesses to create quality messaging campaigns when sending bulk messages on WhatsApp.
Phone number tiers
While WhatsApp API users have the potential to send messages to an unlimited number of customers, they can't do so instantly. Instead, users have to gradually advance through Phone Number Tiers.
Phone Number Tiers represent the number of contacts you can bulk message. Higher phone number tier = more unique contacts that you will be able to message within a 24-hour period.
Phone number status and quality rating
Two essential factors for maintaining your ability to send bulk messages on WhatsApp.
Quality rating
How your messages are perceived by customers and based on the response rate and communication. There are three types of ratings:
High (green-colored)
Medium (yellow-colored)
Low (red-colored)
Phone number status
There are five statuses for phone numbers:
| | |
| --- | --- |
| Pending | Pre-verification status when the business waits to pass the Trade Policy check. |
| Offline | Status when businesses fail the Commerce Policy, check, or cancel their WhatsApp API account. |
| Connected | Default status. The goal is to maintain a high-quality rating. |
| Flagged | Status when the quality rating becomes Low. While flagged, you are unable to upgrade your phone number tier. To change the status back to Connected, the quality rating needs to return to Medium or High within seven days. If not, the phone number will be Connected but the tier will be downgraded. |
| Restricted | Status when your phone number reaches its messaging limit with a poor quality rating and the user is no longer able to send bulk messages. |
If your quality rating remains low for a week, your account gets downgraded to a lower tier and its status changes back to Connected. And if a phone number reaches its messaging limit with a poor quality rating, the number gets a Restricted status and the user is no longer able to send bulk messages.
How to increase WhatsApp tiers and message quality rating
The best way to advance through tiers and keep your rating in check is straightforward – make your WhatsApp bulk messages relevant to your contacts! Here is a simple example of how easy it will be to upgrade tiers:

If you want to learn more about tiers, quality ratings, and messaging limits, you can find it all explained here.
How to launch a successful WhatsApp bulk messages campaign?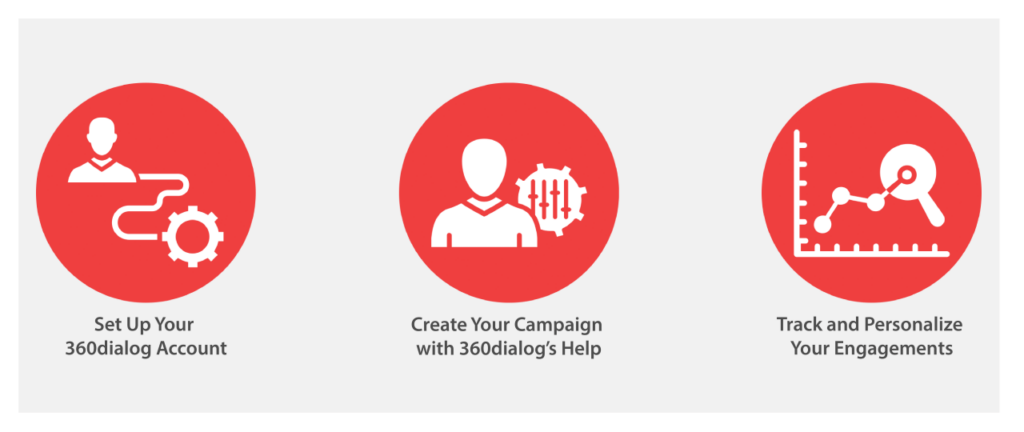 Setup your account with 360dialog
There are two things that a business needs to start sending WhatsApp bulk messages – an official WhatsApp Business API account and an integrated WhatsApp bulk message sender solution.
360dialog is an official WhatsApp API provider that has a WhatsApp Marketing Automation team specialized in helping enterprises increase sales with bulk messaging. In addition to the team, there is also a variety of 360dialog partners who offer customizable messaging software solutions.
Create and oversee your custom mass messaging campaigns with the support of 360dialog's team
API users need to create templates for messages and get them approved by Meta in order to send WhatsApp bulk messages. 360dialog's Marketing Automation team caters to the unique needs of all enterprises looking to create high-impact and hyper-personalized bulk WhatsApp messaging campaigns for subscribers:
Custom WhatsApp Channel setup
WhatsApp Green Tick Verification assistance
Tailored opt-in and opt-out methods (QR codes and interactive messages)
Automated messages workflow creation
Campaign KPIs tracking and analysis
Engage with thousands of customers regularly
Once the WhatsApp bulk messaging flow is established, businesses will be able to engage with thousands of subscribers, based on phone number tier and quality score.
How to send WhatsApp bulk messages without getting banned?
One of the most common risks with WhatsApp group messaging is that businesses can easily get banned. To prevent this, just stick to these guidelines:
Uphold WhatsApp guidelines
Bulk messages need to comply with WhatsApp's Business and Commerce policies. Any violation of WhatsApp policies can easily lead to your business losing the ability to send WhatsApp messages altogether.
Verify your WhatsApp business account
Businesses with a WhatsApp Green Tick Verification have lower chances of getting flagged by customers. The green badge portrays brand legitimacy and reputation, making it a vital element in high-performance WhatsApp bulk messaging. A good place to start is by learning how to increase your chances of getting the WhatsApp Green Tick.
Get consent from recipients before messaging them
Spam raises flags and leads to getting banned by WhatsApp. Enterprises must use opt-in/opt-out methods to get users to confirm that they want to start/stop messages from your business. 360dialog's team can create prefilled messages with QR codes or Quick Reply Interactive Messages to get quick responses from customers, which has two benefits:
More user-initiated conversations as a result of users scanning the QR code or clicking on a WhatsApp chat button.
Lower chances of getting reported and blocked as a result of users being able to unsubscribe from receiving messages with one click.
Respect the privacy of your users
Businesses are professionally obligated to protect the personal information of its users. Make sure never to share information about your users beyond WhatsApp communication and you will minimize the risk of getting banned.
Track your response rate and improve
If your messages are not getting a high enough response rate, you might want to consider reworking them to make them more engaging. Forcing open-ended welcome messages or messages that are just not interesting will only lead to getting banned due to spam.
Finally, use an official WhatsApp Business API solution
WhatsApp has the authority to control and ban its users, so why risk such retaliation by using unofficial tools that might not be compliant with WhatsApp terms of service? Instead, eliminate this risk by turning to tried and tested WhatsApp API providers such as 360dialog. That way, you minimize any risk of getting banned for using shady WhatsApp bulk messages software.
Use cases
Businesses around the world are already successfully using 360dialog's bulk WhatsApp messaging solutions to generate interest and build communities with WhatsApp audiences. Here's how some of them are doing it:
WhatsApp community channel for FC Köln fans
With the technical support of 360dialog, BILD decided to create a WhatsApp News Channel for devoted supporters of FC Koln. With a paid subscription, loyal fans of this football club get daily updates about club member activities both on and off the pitch. You can read the full story here.

Weekly digital leaflets for Rewe customers
To prevent the use of raw materials in the printing of its weekly promotional flyer, the German food retailer Rewe found an eco-friendlier solution through the use of WhatsApp. With the help of 360dialog's WhatsApp API, Rewe has transitioned to providing customers with digital leaflets via WhatsApp bulk messaging, and the results so far have exceeded all expectations. Read more about it here.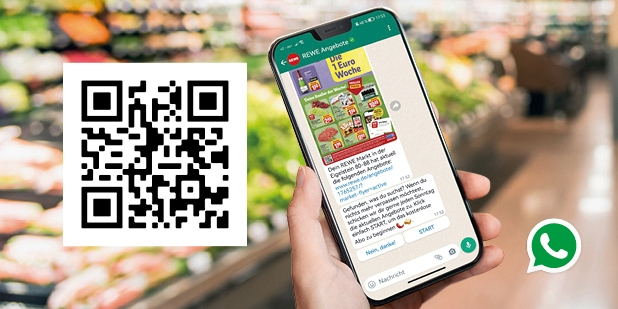 What comes next?
By using 360dialog's Official WhatsApp API, businesses get more than just access to WhatsApp bulk message software. From strategizing and implementation to WhatsApp marketing automation and CRM integration, 360dialog ensures that any investment in the messaging platform delivers on its full potential.
Most importantly, 360dialog's expertise and guidance can ensure that your brand remains on the right side of WhatsApp's strict rules and regulations at all times.
Your chosen WhatsApp Business API solution provider
Praised by developers, small businesses, and
enterprises across the globe
Integration with Team Inbox, CRM, Helpdesk, and more
Highly scalable SaaS pricing plans