Improve your customer communications with a WhatsApp Team Inbox
As an official WhatsApp Business Solution Provider, 360dialog has built a unique network of software vendors offering multiple versions of Messaging and WhatsApp Team Inbox solutions with tons of comprehensive features. Here we will take a dive into the best available solutions on the market.
All the Messaging Team Inbox Solutions presented here have access to the 360dialog WhatsApp API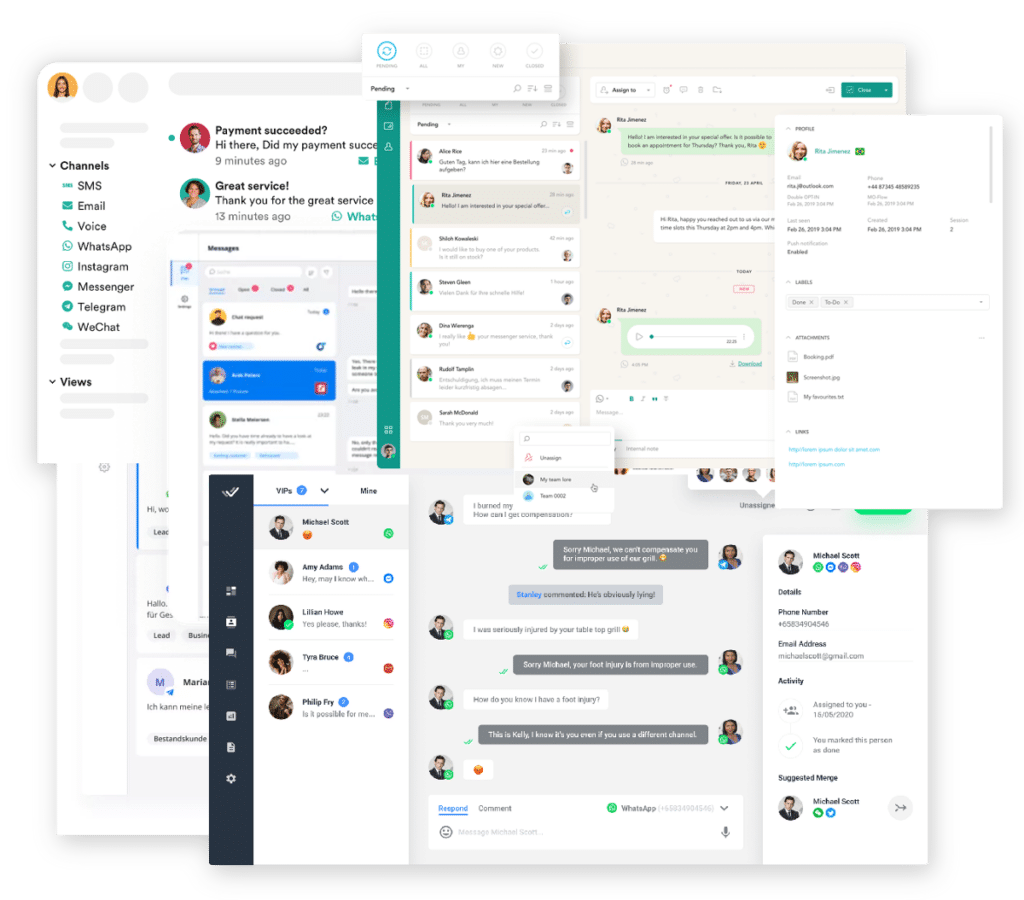 What is a WhatsApp Team Inbox or Multi Agent Inbox?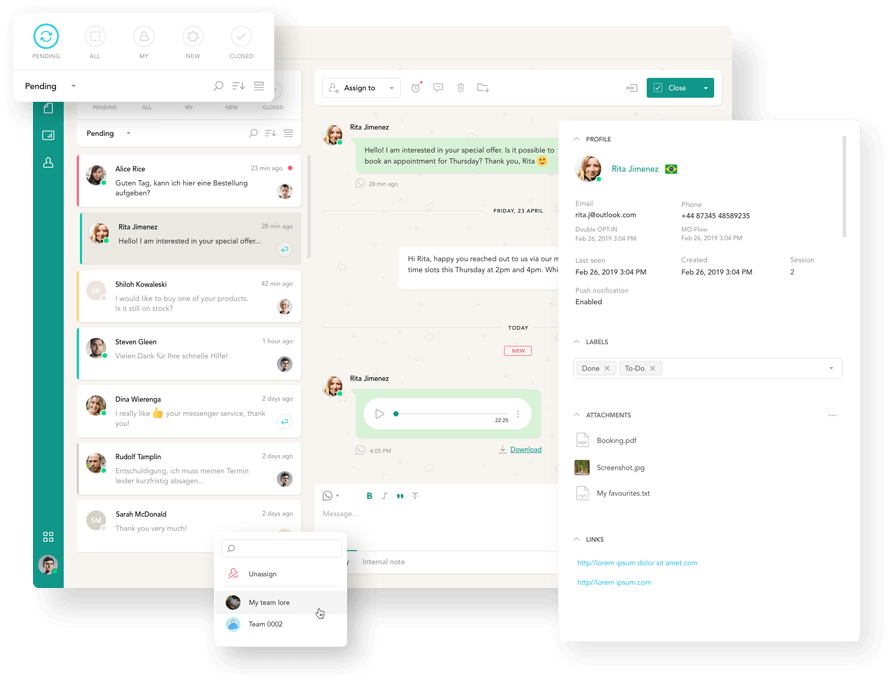 In short, it is like a shared email inbox but for WhatsApp
For any modern business, managing customer communications is overwhelming and barely possible just with the WhatsApp Business app or WhatsApp Web. That is where a WhatsApp Team Inbox comes into play – it helps streamline your WhatsApp conversations and lets multiple members of your communication team collaborate on multiple devices from a single dashboard.
Conversations can therefore be tagged, prioritized and assigned between agent seats. No matter if you get 50 messages per day or many thousands, all are managed efficiently.
Connect WhatsApp with a Team Inbox to your business. A multi agent solution makes it easier for your team to manage customer communications!
Shared Multi Agent & Team Inbox Solutions for Messaging / WhatsApp
With the 360dialog WhatsApp API message data can be automatically transferred between your Team Inbox and your customers (with the 360dialog platform in between) to provide your customers with the best possible customer experience. The following comparison only focuses on solutions including WhatsApp Business API access and their respective pricing.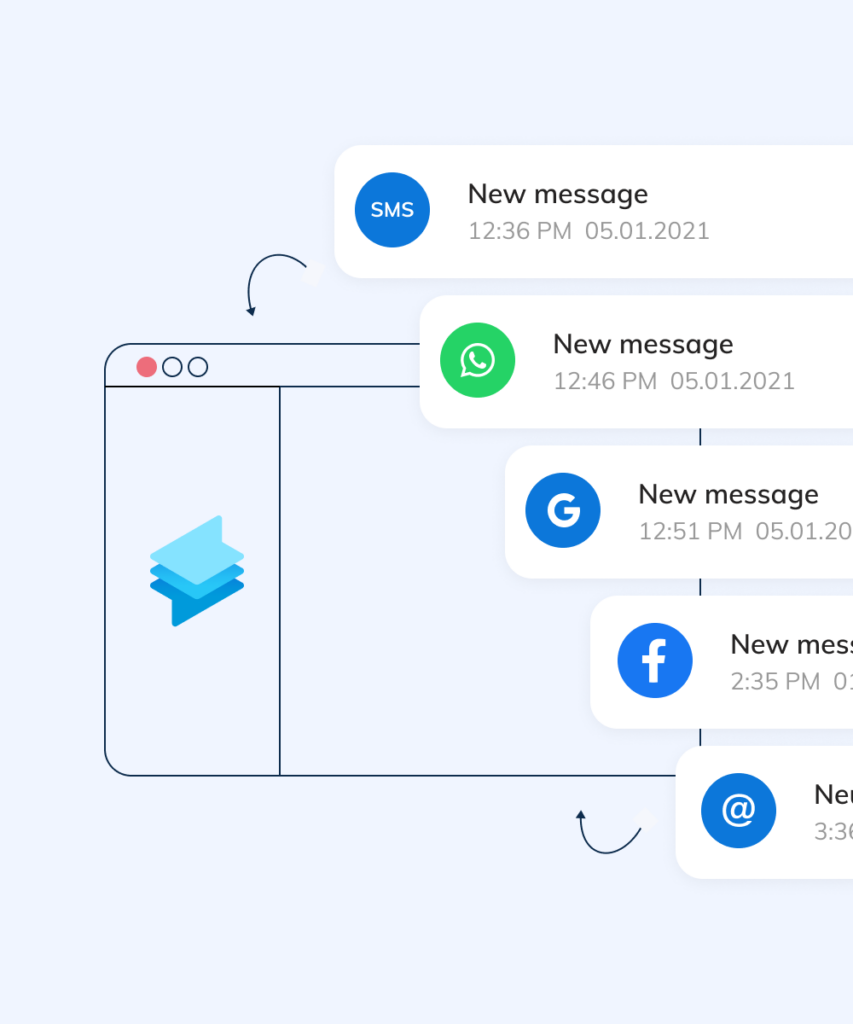 Communicate efficiently with your target group
WhatsApp plus additional communication channels (Facebook Messenger, Instagram DM, Viber, Telegram, WeChat, Google Business Chat, etc)
Only 2 agents within the base plan, multi-agent seats within enterprise plans
Monthly price per seat from €89 (1 Seat) down to €14,95 (20 Seats)
Message templates for WhatsApp
Multichannel Website Widget
Contact Center / Address Book
GDPR compliant
Android & iPhone App available
Monthly plans: €89 Starter to €299 Advanced
Recommended when you need a multichannel inbox, scaling at a reasonable cost
---

Collaborate and respond lightning fast
WhatsApp team inbox plus additional communication channels (Facebook Messenger, Instagram DM, Viber, Telegram, WeChat, etc)
Team Plan for $99/month (14 days free trial) includes 10 user seats and 1000 active contacts/month
Monthly price per seat from $5 down to $4.2
Trigger-based rules / Canned responses
Real-time Analytics Dashboard – detailed conversation data
CRM and Help Desk integrations (HubSpot, Salesforce, Zendesk)
Automation integrations (Zapier, Integromat, Dialogflow)
Android & iPhone App
Other monthly plans: Business plan $299/month, and custom plan (Talk to sales)
Recommended when you need a multichannel inbox, scaling at reasonable cost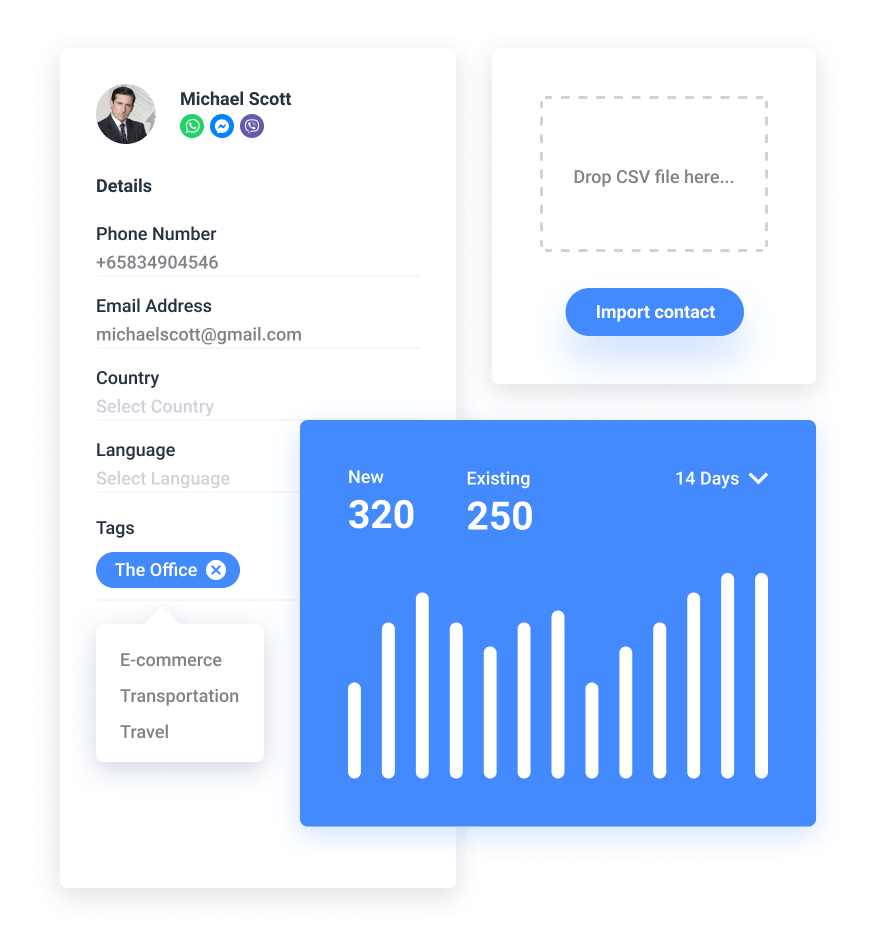 ---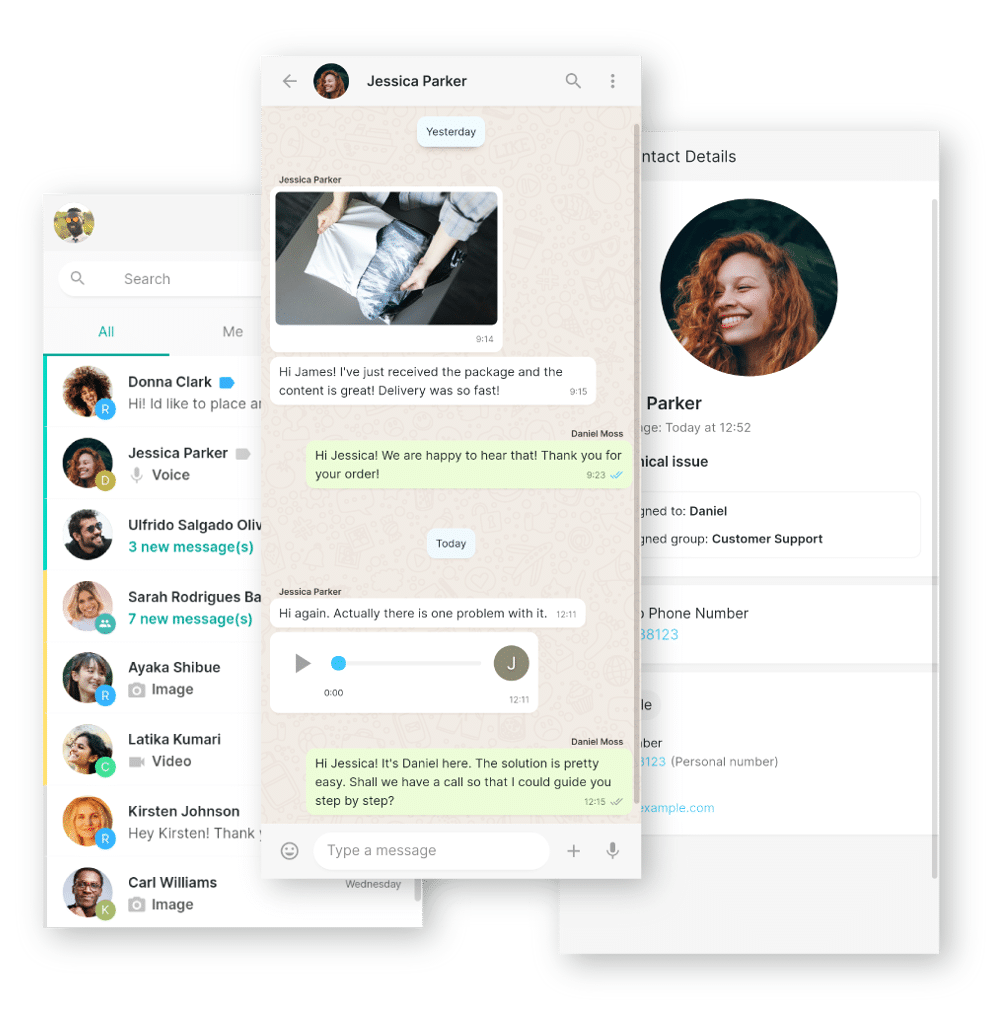 Integrate WhatsApp with other systems easily
WhatsApp API only specialized for WhatsApp communications
5 parallel agent seats in the base version
Monthly price per seat from $19,90 down to $3 (10 agent seats)
Message Rule Engine / Automations
WhatsApp bulk messaging broadcast / Message templates
Chat Widget Creator – free chat widget for your website
CRM and Help Desk integrations (HubSpot, Jira, Google Contacts, Google Drive plus more coming)
1,5 Million message storage & 5GB Attachment storage included
Open-source SDK for integration into your own UI
Automation integrations (Zapier)
GDPR compliant
Monthly plan: €19,90 in GDPR countries, $19,90 for the rest of the world
Recommended when you look for a WhatsApp-only solution and for SDK integration into other apps
---

Native WhatsApp sales, support, marketing, and retention
WhatsApp plus additional communication channels (Facebook Messenger, Instagram DM, Twitter, Telegram, Viber, SMS, Google Business Chat, etc)
Basic Plan for $100/month (14 days free trial) includes 5 agent seats
Monthly price per seat from $100 down to $20
Chatbot flow builder
Inbox rules and assignment automation
Bulk messaging campaigns / Broadcasts
Supports all media (voice, video, GIFs, etc)
Advanced search and reports
Integration with Zapier, HubSpot, Shopify, Stripe
Android & iPhone App 
Other monthly plans: Premium $200/month and Enterprise (Talk to sales)
Recommended when you look for a WhatsApp-focused multichannel solution for sales and support teams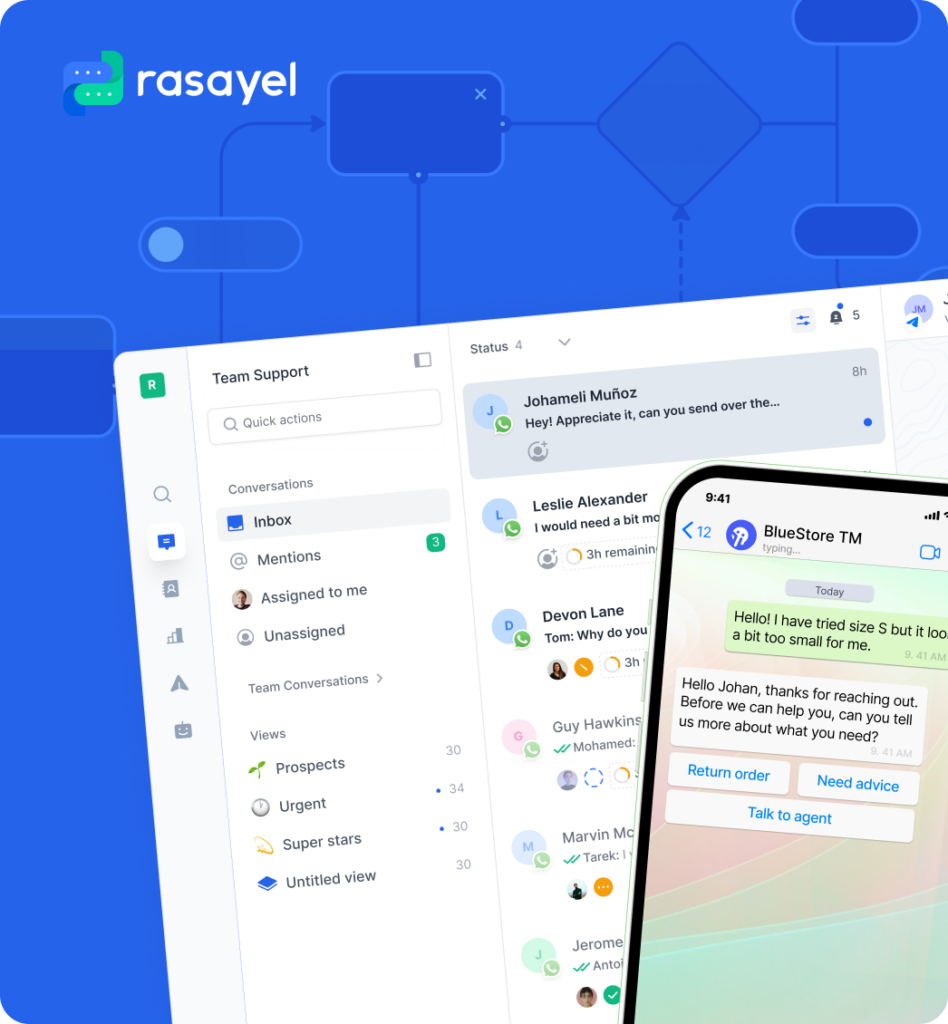 ---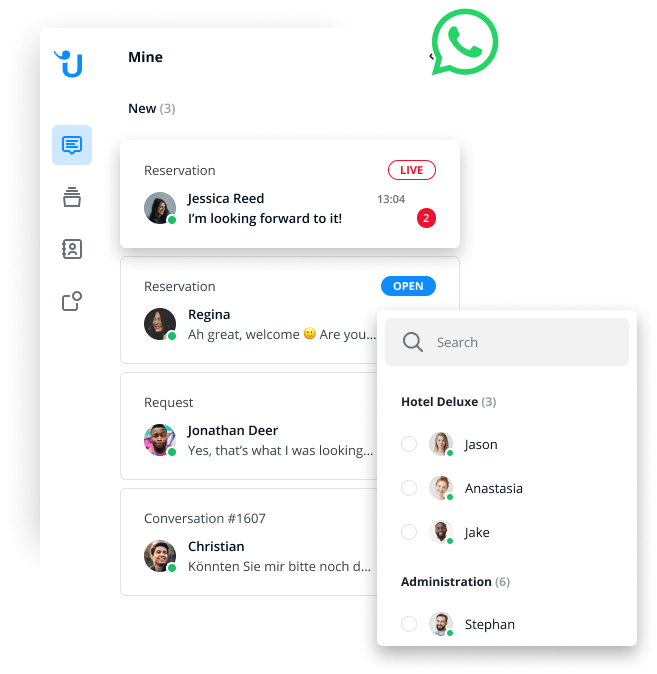 Turn instant chats into long-term customers
WhatsApp team inbox plus multiple communication channels (Facebook Messenger, Telegram, Threema, SMS, Website Chat)
Monthly price per seat from €90 down to €22,5
Website Messenger – feature-rich chat widget with canned messages, media support, voice, video calls and screen sharing
Live Translation – AI-powered translation engine, customer's messages translated to your language and vice versa
AI Automation Hub – automate your communications with AI-powered chatbots, smart FAQ and interactive contact forms, all connected to a central knowledge base
Chatbot API – connect your existing chatbots
CRM, Help Desk, and E-commerce integrations (HubSpot, Salesforce, Pipedrive, Jira, Zendesk, Helpscout, Slack and many more)
GDPR compliant and hosted on German servers
Monthly plans: Including WhatsApp from €100 per month, 10% off for a yearly plan
Recommended when you look for an all-in-one solution that offers website chat, messaging and AI automation
---

Multiply your sales
WhatsApp API only specialized for WhatsApp communications
Monthly price per seat from $50 down to $10
No-code Chatbot Builder – unlimited custom chatbots
Advanced Contact Management / Message Rule System
Team Performance Analytics Dashboard
WhatsApp Chat Widget – free WhatsApp button for your website
CRM integrations (HubSpot, Zoho, Teleduce, Monday.com)
E-commerce integrations (Shopify, Woocommerce, Wix Commerce, Bikayi, Storehippo)
Android & iPhone App
Monthly plans: from $50 (Growth) to $160 (Pro)
Recommended when you look for a WhatsApp-only solution and for E-commerce integrations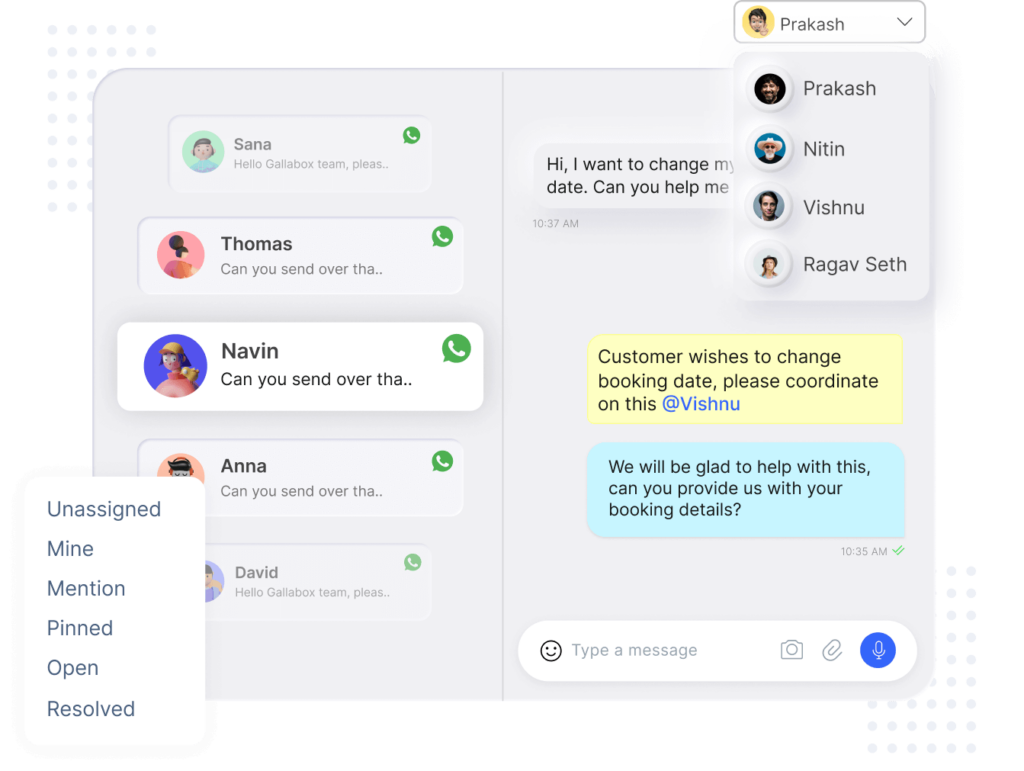 ---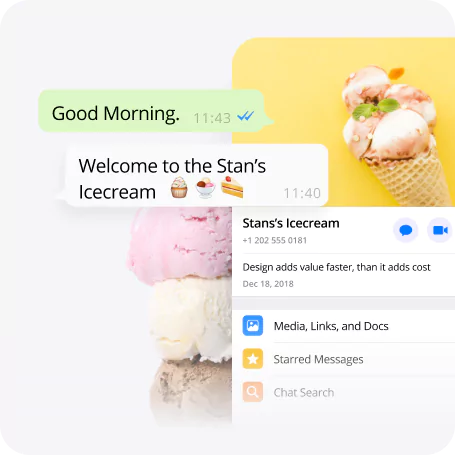 Multichannel Solution
WhatsApp team inbox plus multiple communication channels (Facebook Messenger, Instagram DM, Telegram, Google Business Chat, Apple Business Chat)
Monthly price per seat from €65 (1 seat) down to €4.7 (200 seats)
Unified Messaging API – easy to set up for any CRM or bot service
Answer Wizard – response flow automation
Chat Labels and Attributes – chat management and analytics
Webchat Widget Generator – free live chat for your website
CRM integration (HubSpot)
Android & iPhone App
GDPR compliant
Monthly plans: Including WhatsApp starting from €65
Recommended when you look for a WhatsApp-focused Multichannel Solution for up to 4 users
---

Reach your customers wherever they are
WhatsApp team inbox plus multiple communication channels (Webchat, Facebook Messenger, Twitter, Apple Business Chat, SMS)
Monthly price per seat from $138 down to $40
LiveChat – the industry leader in live chat tools
LiveChat APIs – powerful automation and custom integrations
SnapCall – elevating chats to voice, video, and screen sharing
Message Translator – Effortless translation on both ends of the conversation
Integration with 200+ services – CRM, Help Desk, E-commerce, Marketing Automation
Android & iPhone App
Monthly plans: $19 per agent/month (Starter) to $59 per agent/month (Business) – LiveChat, $79 per license/month – WhatsApp Channel
Recommended when you search for a live chat solution with multichannel support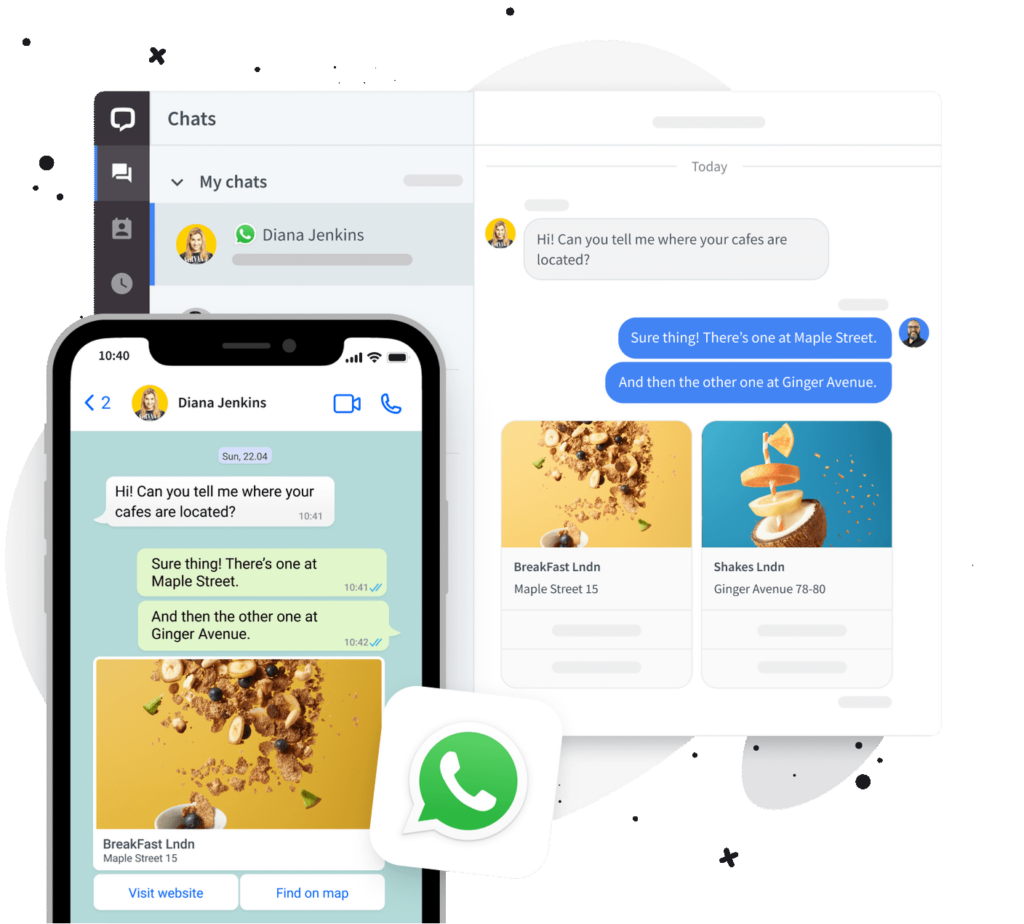 ---
Our Experts Will Help You Selecting The Right Solution
Ready to get started? Fill out the form so we can have enough information to help you find the right solution for your business:
Your WhatsApp Business Solution Provider
Offer your clients the benefits of relevant and convenient services via the WhatsApp Business API with an official WhatsApp Enterprise Account
---

Official API by WhatsApp for sustainable channel growth

Your data hosted by a verified channel partner

Hosting of your data in German data centers

Secure End2End Messaging

Direct Acces to the global WhatsApp team