WhatsApp Marketing: Effectiveness & Best Practices
September 20, 2023 — by Nael C.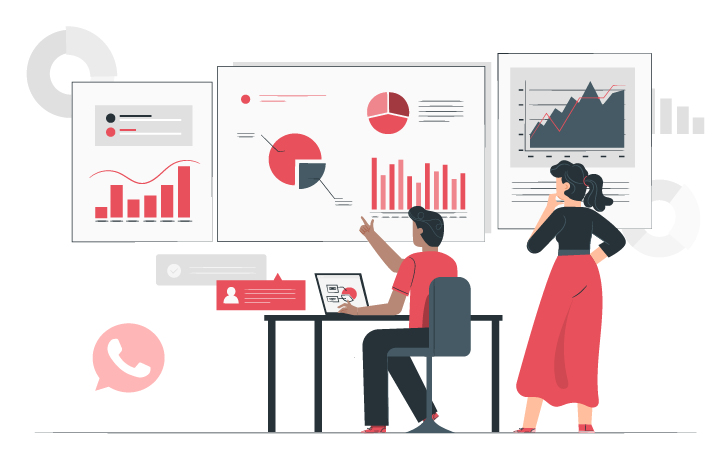 Share this article
WhatsApp marketing is simply promoting a brand, product, or service via the WhatsApp messenger app. The process involves acquiring audiences through multiple sources (such as ads, QR codes, and links) and directing them to a WhatsApp Conversation where lead generation & conversions happen.
However, the old and usual Marketing questions remain: How effective is Marketing through WhatsApp? Can its performance be tracked and measured? What are the conversion rates & ROI for such campaigns?
This article addresses all these questions and guides you through the best practices for launching an effective and successful WhatsApp Marketing campaign.
Is WhatsApp marketing effective?
Besides the fact that you'd be targeting your audience through one of the world's most popular messaging apps, implementing a WhatsApp marketing strategy can help you achieve great and cost-effective results. An industry expert and former Google employee stated that advertisers got the best ROI from Meta's click-to-messenger ads. (Source: Alpha Sense 11 Sep 2023)
– Advertisers that are using Meta Click-to-Messenger ads are currently seeing "best ROI of anything they are doing in digital advertising."
So, not only is WhatsApp a popular platform through which new audiences can be targeted, but if done well, Marketing through WhatsApp can be cost-effective, and it can reap great results such as high conversion rates and positive ROI for businesses and enterprises.
Examples of successful WhatsApp marketing campaigns
Here are some examples of outstanding results achieved by big companies through marketing on WhatsApp:
Fever US & Latin America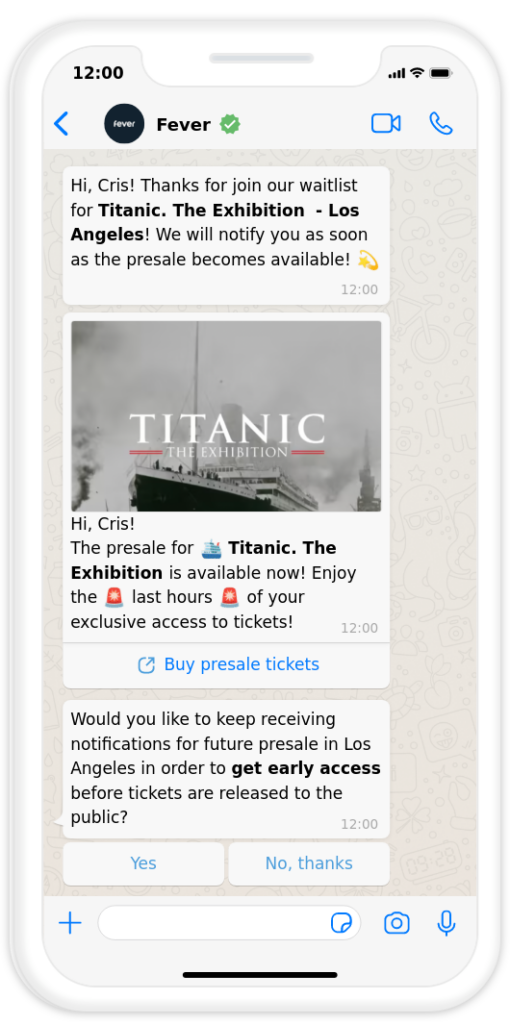 The company scaled WhatsApp Marketing to millions because WhatsApp is its best-performing conversion channel.
28,000 Joined the waiting list
10,982 new leads
39.5% conversion rate
Vodafone Qatar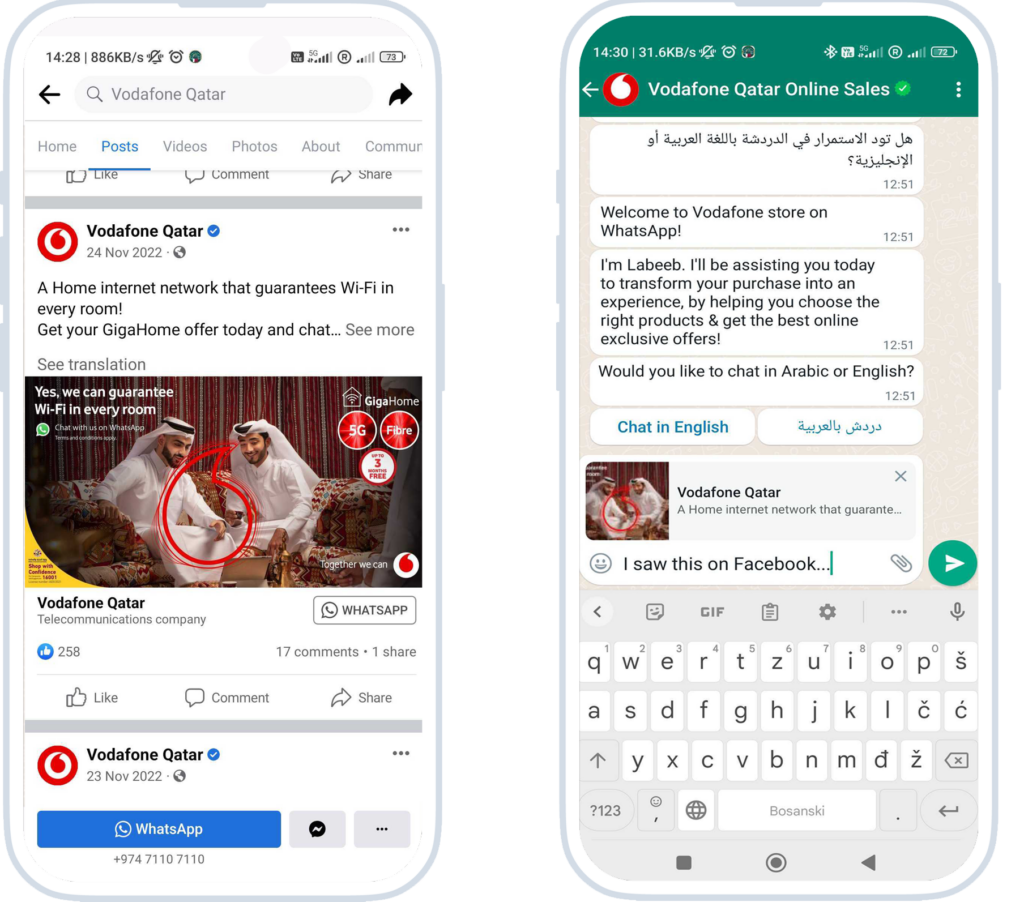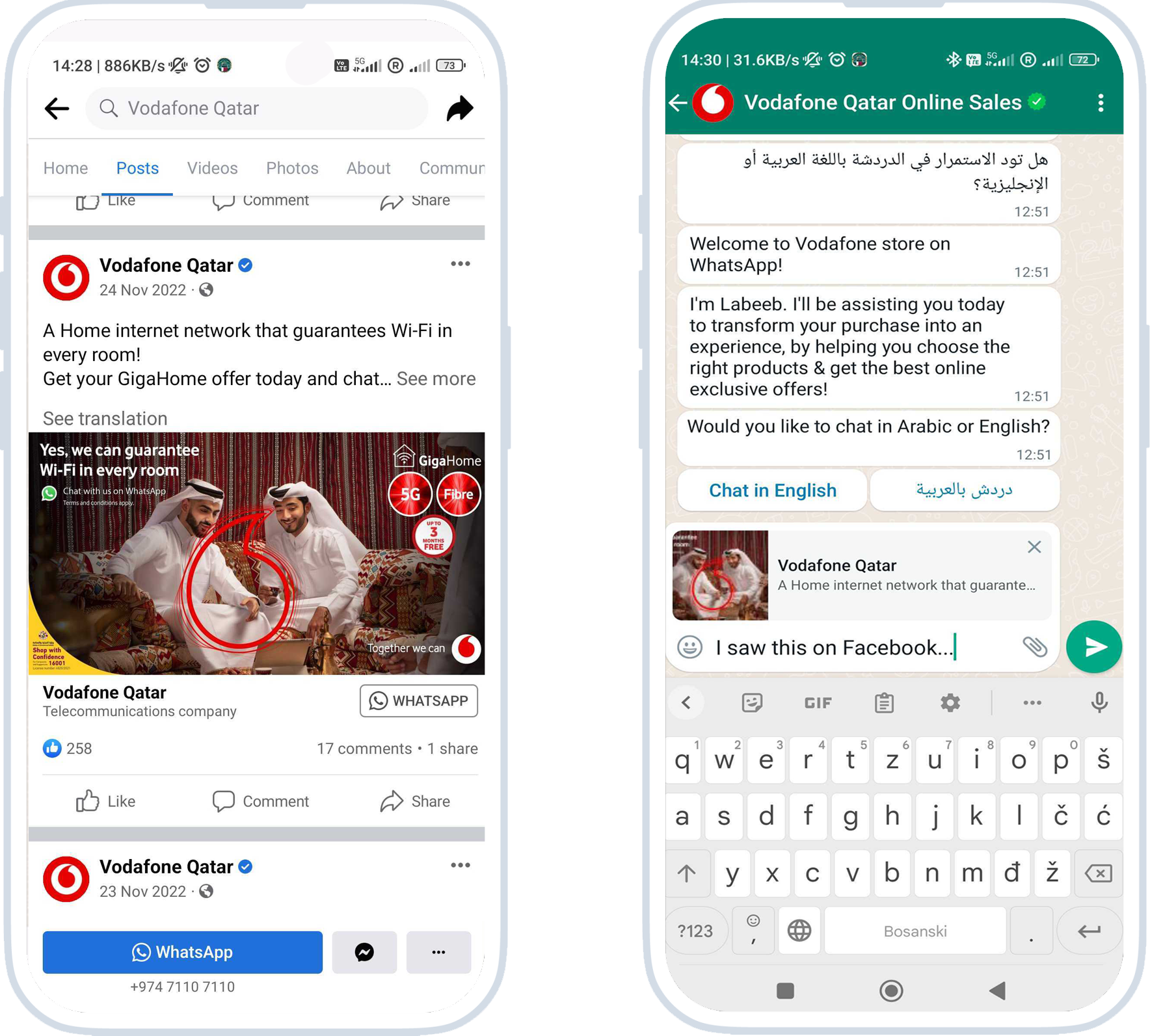 Vodafone Qatar increased its marketing spend on WhatsApp Marketing after realizing its cost-effectiveness.
5000 new leads
$5.60 per lead
Pés Sem Dor – Brazil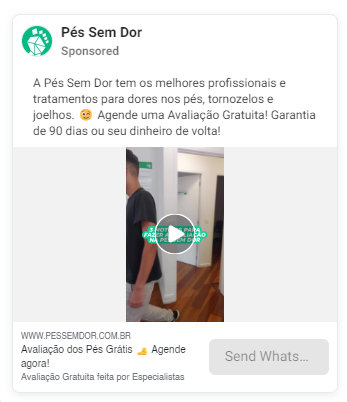 WhatsApp was the company's top-performing Marketing channel and the cost per lead was reduced by 20%.
Positive ROAS
75,000 New leads
$2.60 per lead
Can WhatsApp campaign performance be tracked and measured?
Yes, tracking a WhatsApp funnel from impression to conversion is possible. WhatsApp is end-to-end encrypted, and Meta (Formerly known as Facebook) doesn't currently provide a native tracking and analytics platform for WhatsApp. And it is unlikely they will due to the channel's encrypted messages and the data's unstructured nature.
However, tracking your WhatsApp Marketing campaign from ad impression to conversion is possible with 360dialog's insights platform.
The platform is GDPR compliant, and 360dialog won't have access to your conversations. However, you can track the frequency of specific keywords within a conversation and assign these as events or conversions.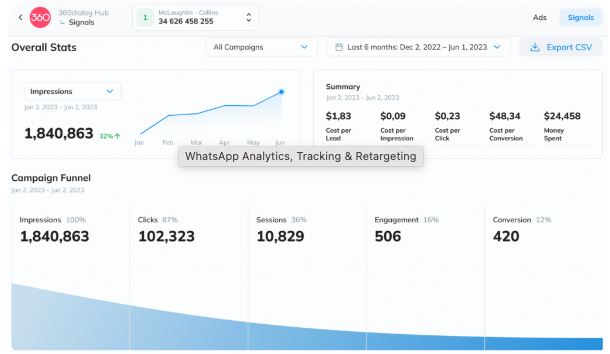 You can also attribute a conversion or event to its relative source, whether it's a Facebook ad, QR code, or WhatsApp link displayed on a website (Wa.me link)
What are the tools & requirements for marketing on WhatsApp?
Here's a checklist of all the tools that are required to launch a successful WhatsApp Marketing campaign:
WhatsApp Business API
This sets the foundations for all the powerful WhatsApp marketing tools a business needs to launch a successful campaign. The WhatsApp business app is limited in terms of marketing, automation, and analytics featured. Therefore, it is best to use the WhatsApp Business API.
Ads that click to WhatsApp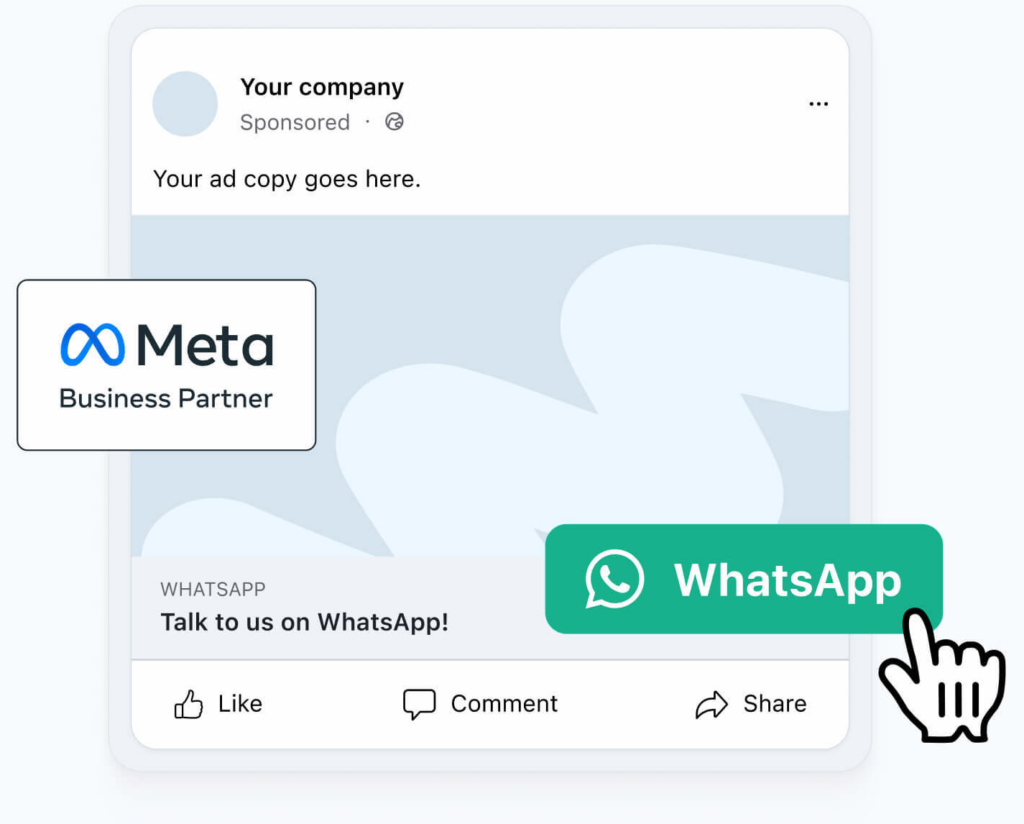 Ads that click to WhatsApp are ads displayed across Facebook and Instagram with a button that leads to a WhatsApp conversation with your business.
When customers message you through click-to-WhatsApp ads, it counts as a free entry-point conversation, which reduces the conversation costs for your business.
Although not necessarily a requirement, these Facebook and Instagram ads with a WhatsApp button can effectively reach your target audience and drive them to initiate conversation with your business.
QR codes & WhatsApp links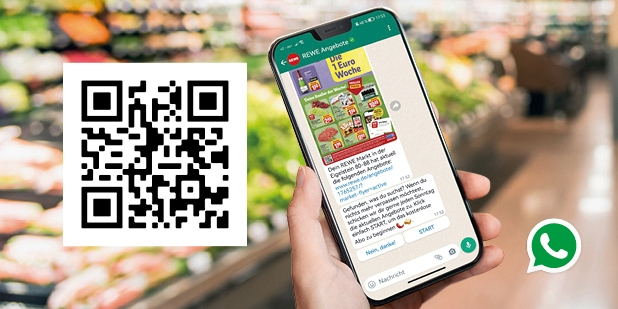 Just like ads that click to WhatsApp, these aren't necessarily a requirement. However, these can be displayed across different media types to drive more clients to start a conversation with your business.
WhatsApp marketing automation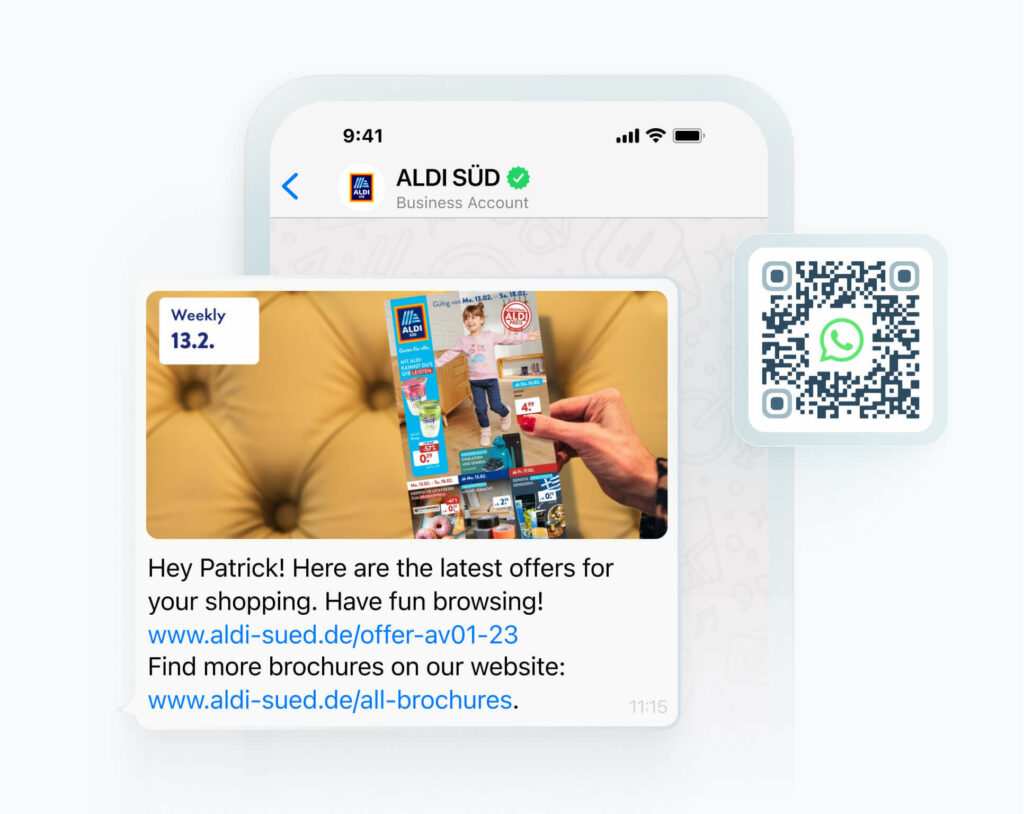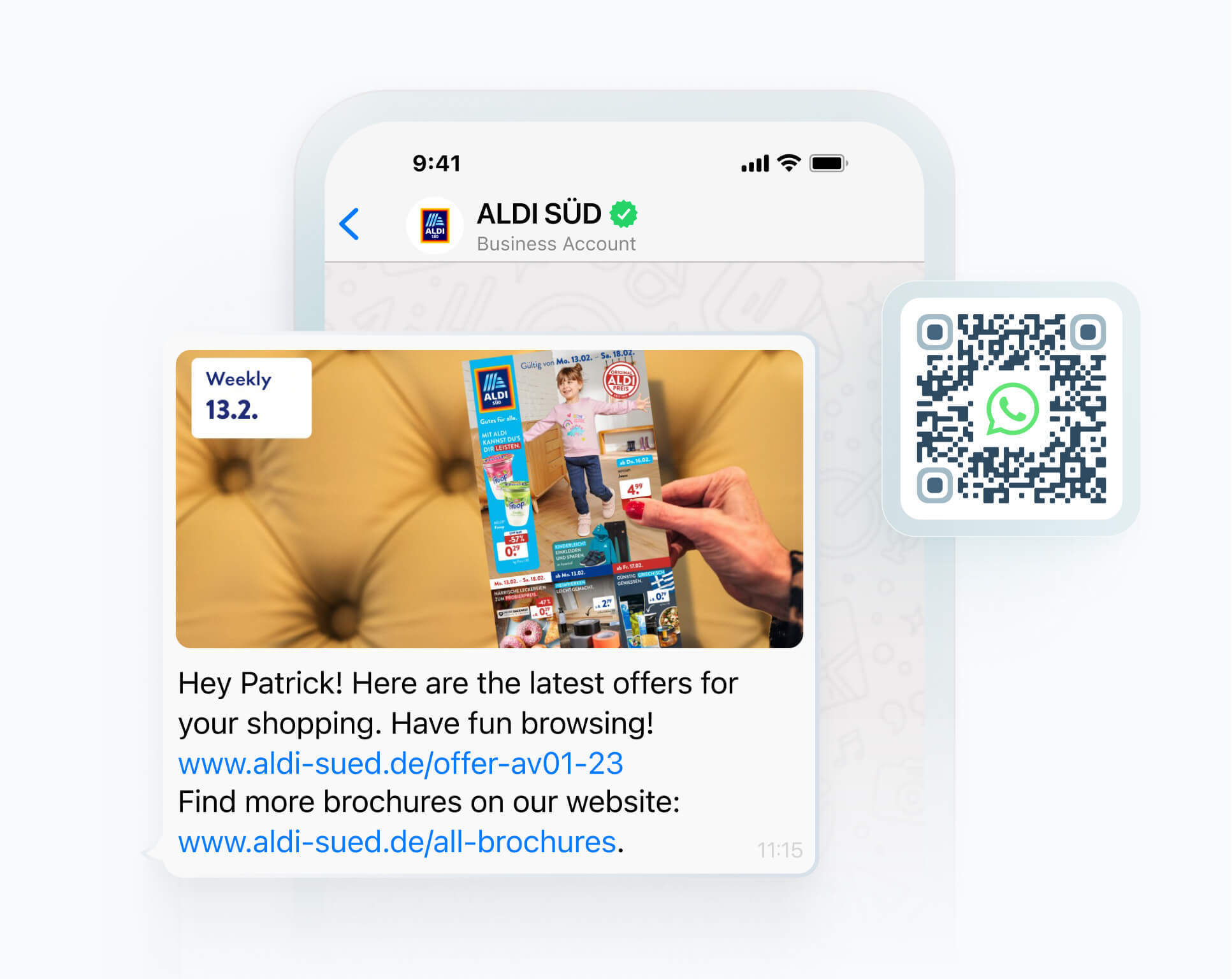 When launching a WhatsApp marketing campaign, you should expect hundreds or thousands of messages from your target audience. The best way to deal with this is to automate messaging.
Tracking & Analytics platform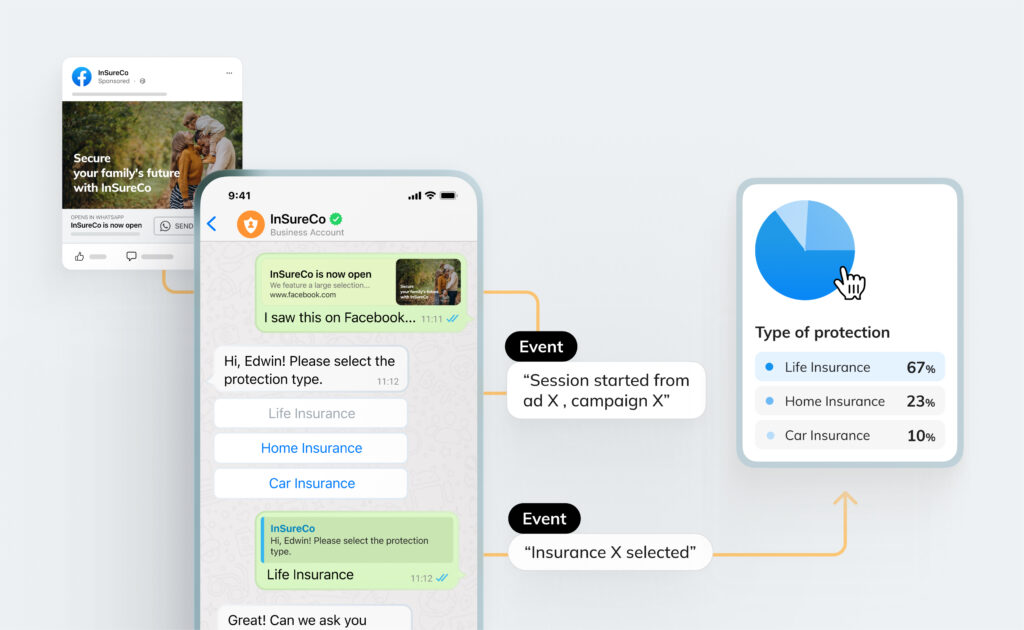 You can only determine whether a campaign is successful by being able to track and measure performance. A tracking and analytics platform such as 360dialog's insights platform can help you track, analyze, and optimize your WhatsApp campaigns.
How to market products & services on WhatsApp?
Defining a flow or funnel your target audience will go through before they convert and potentially become brand evangelists is crucial. So first, begin by defining your KPI & goals and then map the user journey from impression to purchase or conversion. Here are the most important steps for creating your WhatsApp marketing funnel:

1. Define how your audiences will find out about your WhatsApp campaign:
The first step is to define your target audience and through which media you'll reach them.
After determining your target audience's demographics and preferences, you can select which media you'll use to start your outreach campaign. The first contact point with your audience can be any of the following:
Paid Facebook & Instagram ads with a link to WhatsApp (Ads that click to WhatsApp)
A QR code on print media (Posters & leaflets), billboards, or TV ads
A Wa.me link displayed on a web page, traditional print ads, billboards, etc.
Choosing the right source of user acquisition depends heavily on your target audience and where they are most present or active. But it's important to define this so the cost and effectiveness of this acquisition method can be measured and optimized in later stages.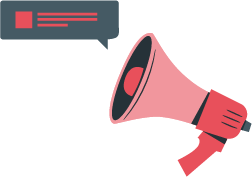 2. Create the message & automate conversations:
If the first step is done nicely, you should expect your WhatsApp inbox to be flooded with messages. And the only way to deal with a high volume of messages is to automate your WhatsApp Marketing conversation.
So This step involves:

Tailoring your WhatsApp marketing messages based on your target audience's details and preferences.
Creating interactive messages and Click to actions within WhatsApp.
Automating the messaging flow with a chatbot or marketing automation tool.
Aldi SÜD digital leaflets
Aldi SÜD in Germany has different marketing messages, including leaflets for different regions and stores. So based on the post code provided during the conversation by the user and the selected store, the right leaflet is sent.
You can check our WhatsApp marketing automation solution to automate WhatsApp marketing messages and communicate with your target audience on a big scale.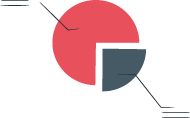 3. Track, measure & analyze performance :
The only way to determine if your ads and automated messages are working and leading to conversions is by tracking their performance. You can track Ads and landing page performances through tools like the Meta Ads Manager, Google Analytics, Adobe Experience, etc.
However, to track the performance of automated WhatsApp marketing messages or flows, you can rely on 360dialog's insights platform. You can assign button clicks, keywords, or messages such as "order completed" as events and conversions through this platform.
Ultimately, you can analyze the performance of different messaging formats and CTAs and see what works best for your business. Moreover, within the same platform, you can attribute these events and conversions to the right source, be it an ad, QR code, or WhatsApp links (wa.me) .
4. Optimize, refine & retarget
You can optimize your campaigns for better outcomes after determining what works well and what drives the best results from your tracking and analytics platforms.
360dialog's platform, for example, helps you identify at which stage your targeted audience is dropping out and which messages are leading to a leaky funnel. Based on this information and data, you can improve these messages or even do some A/B testing to define what works best for your business and target audience.
This can help you highlight popular and frequent choices such as popular products & categories and top sellers (e.g., clothes colors, design, size, etc.).
---
Key takeaways
Here are the most important points to keep in mind if you're considering using WhatsApp as a marketing channel.
– WhatsApp is a highly effective marketing channel with high ROI & conversion rates
– Ads that click to WhatsApp have a high ROAS, and they reduce conversation costs
– Marketing automation can let you scale your campaigns easily
– 360dialog' campaigns & insights tools include all the tools that are required to launch a successful WhatsApp marketing campaign
360dialog's Campaigns & Insights
All the tools you need to launch a successful WhatsApp Marketing campaign!
Audience acquisition with ads that click to WhatsApp
Bulk messaging campaigns & marketing automation
Full WhatsApp funnel tracking & analytics