New WhatsApp Conversation-Based Pricing and Categories in 2023
February 14th, 2023 — by Zivko A.
6 min read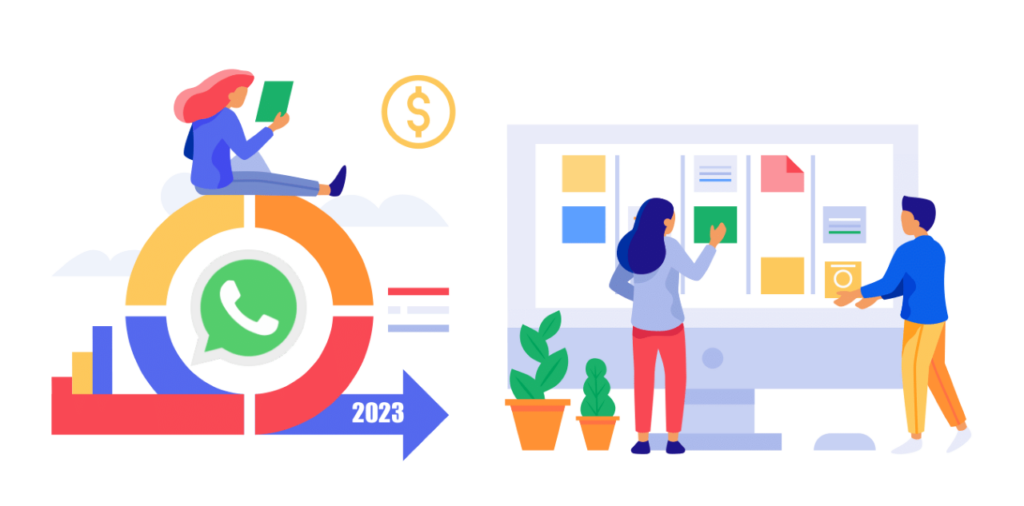 Share this article
As Meta and WhatsApp continue to work on ways to improve user experience, 360dialog is here to keep clients and partners up-to-date with all upcoming changes. In this article, we explore how Meta is planning to redefine the WhatsApp conversation-based pricing and categories in 2023, and how this will affect pricing plans and the free 1000 conversation tier.
Introducing the new WhatsApp conversation categories
Meta has decided to completely change the current division of WhatsApp conversations into user-initiated and business-initiated. Starting June 1st, 2023 – the categories will be redefined as follow:
Business-initiated conversations will be split into three categories: Utility, Authentication, and Marketing.
User-initiated conversations will be renamed to Service conversations.
What is the reasoning behind this update?
Meta is looking to better match their WhatsApp conversation-based pricing and categories with the different stages of the customer journey. Currently, WhatsApp is outperforming email and SMS in terms of open rates and conversion rates due to the relevance of business-initiated conversations and the low number of spam. As an example, over 67% of businesses reported an increase in conversion rates due to the implementation of WhatsApp. And this is the kind of result that Meta wants businesses to focus on more in the years to come.
New WhatsApp categories explained
As mentioned earlier, the update will be made effective starting June 1st, but the new conversation categories will be mandatory for template approval starting May 1st, 2023. So, let's take a closer look at how each category is defined:
Utility conversations
Business-initiated conversations that provide users with ongoing transaction status updates, post-purchase notifications, recurring billing statements, etc.
Authentication conversations
Business-initiated conversations that provide users with one-time passcodes (OTP) during the login/registration process (account verification, password reset, account recovery, account removal, deactivation, etc.)
Marketing conversations
Business-initiated conversations that focus on advertising, such as promotions, offers, back-in-stock alerts, calls to action, shopping cart abandonment notifications, etc.
Service conversations
Any user-initiated conversation, no matter the reason behind it.
Category selection & management
The new Whatsapp conversation categories will be introduced and required from April 1st, 2023. Meta will assign the categories to the templates automatically, so no action is required from users. Businesses will be able to appeal the category assignment by Meta.
How will the new conversation charges be initiated?
The charges for each conversation will be based on the template category. Once a business sends a template, it will initiate a new conversation under that category, which will incur the appropriate charges. Users will not be charged for sending multiple templates of the same category within an open conversation.
It should be noted that users can't combine different WhatsApp conversation categories within a single conversation. For example, if a marketing conversation is open and an authentication template is delivered within that conversation, a new, separate authentication conversation will be initiated as well as a separate charge for it.
The exception to this rule is the free entry point conversations. During the free window, businesses will be able to send multiple templates of different categories, and no new conversations will start as a result.
How will the new categories impact WhatsApp conversation-based pricing?
The conversation rates will continue to vary based on the user's country or region, the user here being the customer that the business is communicating with. When it comes to the pricing for each of the categories:
Utility conversation rates will be lower than current business-initiated conversations.
Marketing conversation rates will be higher than current business-initiated conversations.
Authentication conversation rates will be shared at a later date.
Service conversation rates will remain the same as current user-initiated conversations.
You can find the exact WhatsApp conversation-based pricing rates for each of the categories here.
Additional changes to WhatsApp conversation-based pricing in 2023
Free entry point conversation update
Starting on March 1st, 2023 – Meta is extending the free conversation window from 24h to 72h. That means that all conversations that get initiated from Ads that click to WhatsApp or Facebook Page CTA will have a 3-day conversation window.
The conversations initiated from the ads are free, but the ad itself still adheres to standard pricing.
Free tier conversations update
Starting on June 1st, 2023 – business-initiated conversations will no longer be included in the free tier. Each WhatsApp Business Account (WABA) will only get 1,000 free Service (user-initiated) conversations per month.
*This will not apply to businesses managed by Business Solution Providers, or businesses that did not rely on the services of a Meta partner to integrate the On-Premises API, until June 1, 2023. For all other accounts, this takes effect on April 1, 2023.
User-initiated
Business-initiated
Conversation Type
Service
Utility
Authentication
Marketing
Templates/Message types examples
Support
Customer Inquiry
Status updates
Post-purchase notifications
OTP for log-in or sign-up
Promotions
Retargeting
Ads
VS current rate
Same
Lower
TBA
Higher
Free 1000 conversations per month
YES
NO
NO
NO
For more updates from Meta and WhatsApp, make sure to follow 360dialog's blog. As an official WhatsApp API Business Solution Provider, we make it our goal to help businesses and developers make the most out of WhatsApp. Contact our team if you have any further questions.
Your chosen WhatsApp Business API solution provider
Praised by developers, small businesses, and
enterprises across the globe
Integration with Team Inbox, CRM, Helpdesk, and more
Highly scalable SaaS pricing plans