Click to WhatsApp ads: How to drive outstanding results
October 2, 2023 — by Nael C.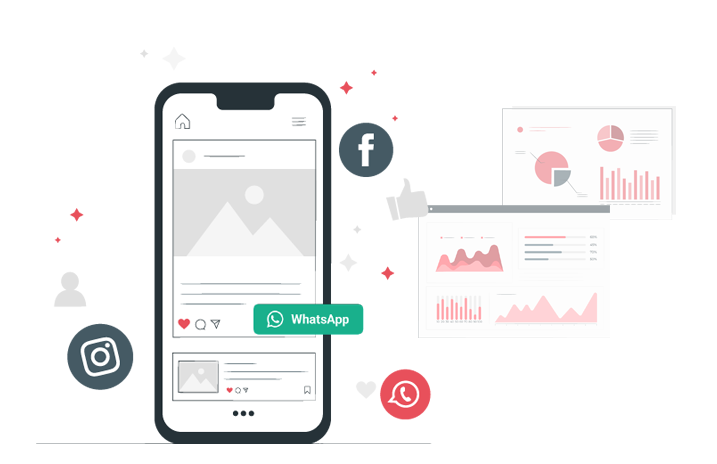 Share this article
Companies using click-to-Whatsapp ads as an entry point for conversations have witnessed unprecedented marketing results.
Fever in the US and Latin America achieved a 39.5% conversion rate
Pes Sem Dor in Brazil reduced cost per lead by 20%
An industry expert stated that advertisers got the best ROI from Meta's click-to-messenger ads. (Source: Alpha Sense 11 Sep 2023)
The success of these ads depends on a combination of factors and tools that can help your business get the most out of them.
This article introduces you to click-to-Whatsapp ads, their benefits, and the best way you can use them to optimize for ROAS and get high-quality leads.
What are click-to-WhatsApp ads?
Simply put, click-to-WhatsApp ads are digital advertisements with a WhatsApp Button that can be displayed across Facebook and Instagram in formats like stories, reels, and posts.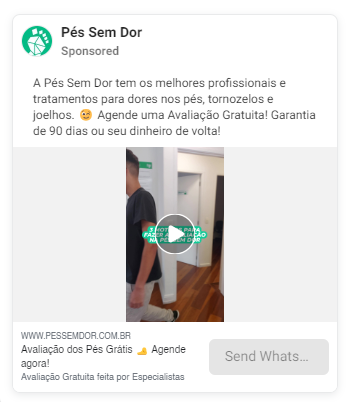 This type of ad provides a specific solution to one particular problem: enabling an entry point for a specific audience to start a conversation with your business on WhatsApp.
Other solutions or entry points include displaying QR codes or links across your media or channels. However, these methods aren't as cost-effective as ads, and marketers don't have complete control over the targeted audiences.
What are the benefits of click to WhatsApp ads?
This type of ads has multiple benefits for companies that want to advertise their products or services on WhatsApp. The benefits include a lower conversation cost, high-quality leads, higher conversion rates, and a positive Return on ad spend (ROAS).
Reduce the marketing costs
According to Meta's documentation, when a user messages a business through a Click to WhatsApp ad, the company can respond with template messages within 24 hours and keep sending template messages at no charge for 72 hours after that.
Conversations initiated through click to WhatsApp ads are categorized as free entry-point conversations. This helps businesses save a lot of money that would otherwise be spent on Marketing conversations.
If you're unfamiliar with Meta's pricing per WhatsApp conversation, all you need to know is that any conversation, including offers, promotions, or informational updates, counts as a marketing conversation.
The pricing per marketing conversation depends on the region or country in which your company is based. You can check the rate cards in Meta's official documentation. However, businesses can avoid paying this cost per conversation by using click-to-WhatsApp ads to acquire clients instead of alternatives like QR codes and WhatsApp links.
By resorting to other types of paid ads, businesses will have to pay the cost per click on the ads with the cost per marketing conversation on top, which can drastically increase the overall campaign cost.
Target high-converting audiences effectively
You can create click-to-messenger ads through Meta's ad managers and target audiences based on demographics like location, age, and language.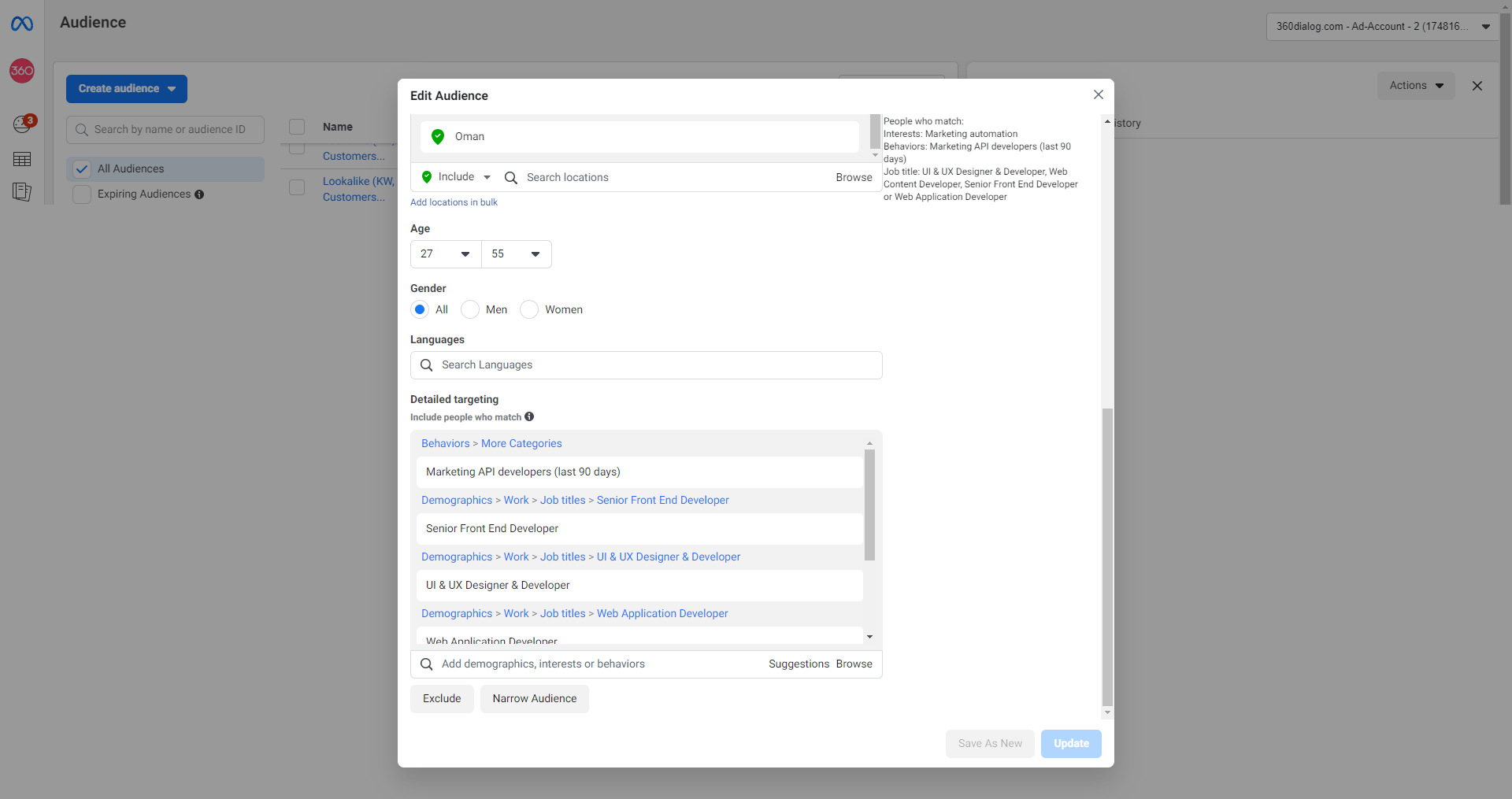 You can create the following audiences:
Custom audiences: Created based on your customer contacts, website traffic, or mobile app.
Lookalike audience: Target people who are similar to your audience. This can be created based on the conversion pixel, people who like your page, or based on a custom audience.
Saved audiences: You can save your commonly used targeting options and preferences for future reuse.
With the audience creation features from meta and the targeting options, marketers can ensure they're acquiring the right audience that is more likely to convert.
Drive higher ROAS & conversion rates
A marketing expert and a former Google employee reported that marketers see the best ROAS from click-to-messenger ads.
Moreover, Brasilian company Pes Sem D'or got a Positive return on ad spend (ROAS) with a 20% decrease in cost per lead when using ads that click to WhatsApp alongside automated conversations. Also, other companies like Fever and Vodafone Qatar achieved high conversion rates and lower cost per lead. Here's what Elie Antoun, the head of telecom and media at Meta MENA said after Vodafone won the pick of the quarter by campaign ME:
"The results of Vodafone Qatar's Click to WhatsApp campaign across the funnel reinforce the importance of the WhatsApp channel and its ability to generate quality leads and accelerate sales. We look forward to deeper lower funnel measurements with the support of 360 Dialog to turn this activation into an always-on lead generation play"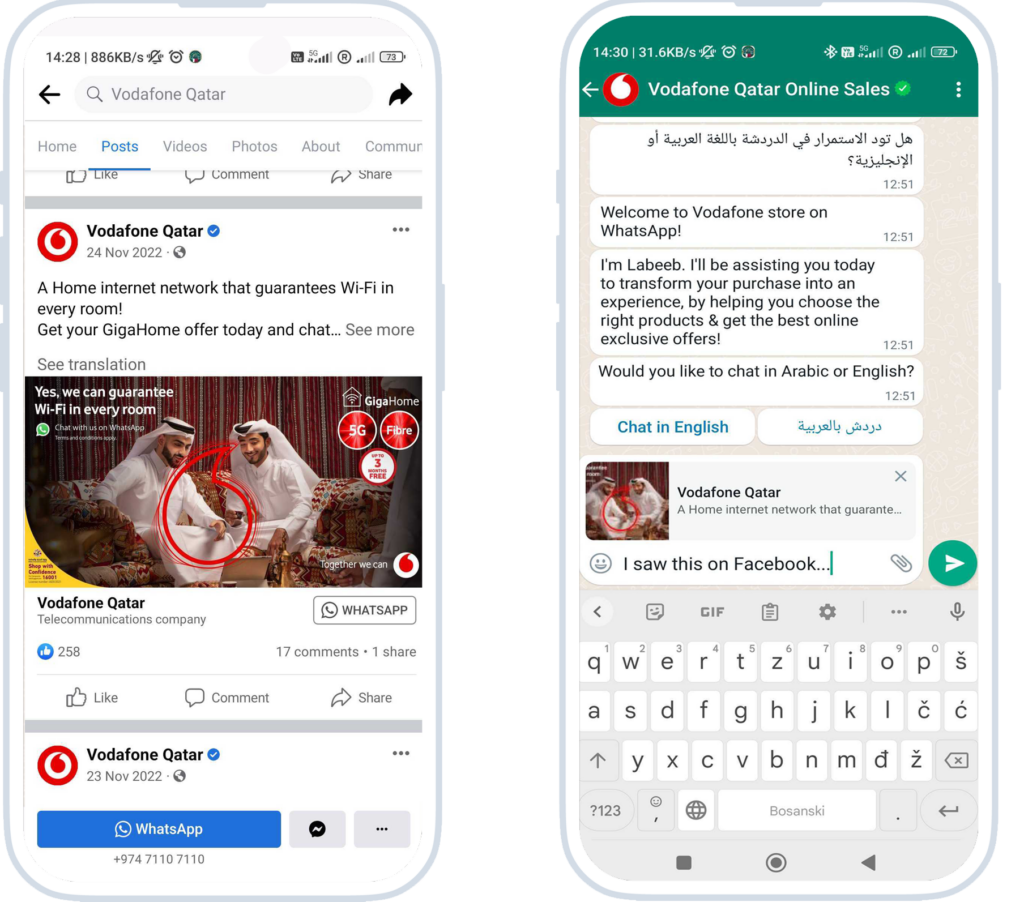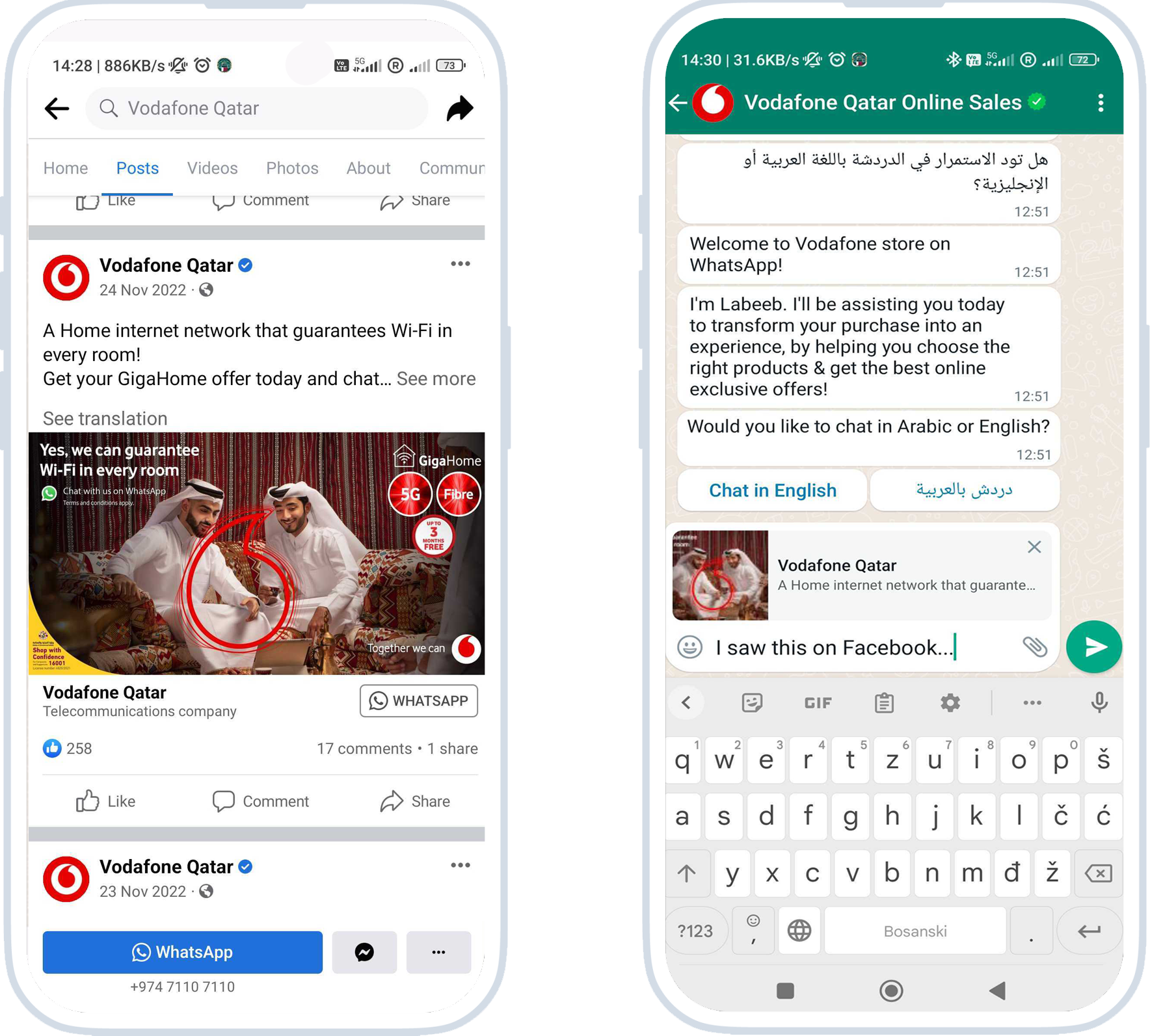 Click-to-WhatsApp ads are highly effective in optimizing conversion rates and cost per lead when combined with other marketing tools that enable tracking, analytics and automation.
When the ads drive more WhatsApp conversations, businesses must automate sending personalized replies, links, and call-to-actions (CTAs) to get the best results. Moreover, tracking the performance of these automated flows and ads and optimizing funnels accordingly would lead to better results.
What are the drawbacks of click to WhatsApp ads?
Like any other marketing tool, Click to WhatsApp ads have pros and cons. The section below will mention some main drawbacks and how to overcome them to achieve great marketing results.
Conversation tracking and analytics
Click-to WhatsApp ads are trackable when it comes to ad metrics such as impressions, engagement, clicks, click-through rate, cost per click, etc.
However, actions and engagements within WhatsApp conversations cannot be tracked through the Facebook ads manager. That's only possible with 360dialog's insights.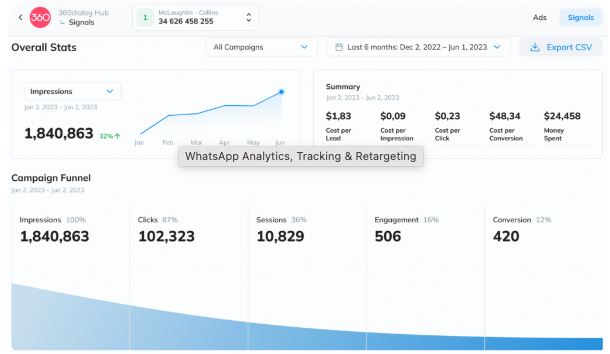 360dialog's insights platform gives marketers visibility over that dark area, which is the performance of WhatsApp conversations. With this platform, marketers can get an abstract view of what is happening within thousands of conversations and learn which messages perform well or the opposite. At the same time, you can assign certain messages as events or conversions.
Spam & messaging out of business hours
The unique and user-friendly qualities of Click to WhatsApp ads have the potential to capture the attention of thousands and encourage them to engage with your business via messages. However, it's important to be aware that not all messages received may be relevant and could potentially be spam.
To maintain highly relevant conversations, it's advisable to schedule these ads to run during peak activity times for your target audience. While setting up you campaign, make sure to designate a lifetime budget to enable the ad scheduling feature.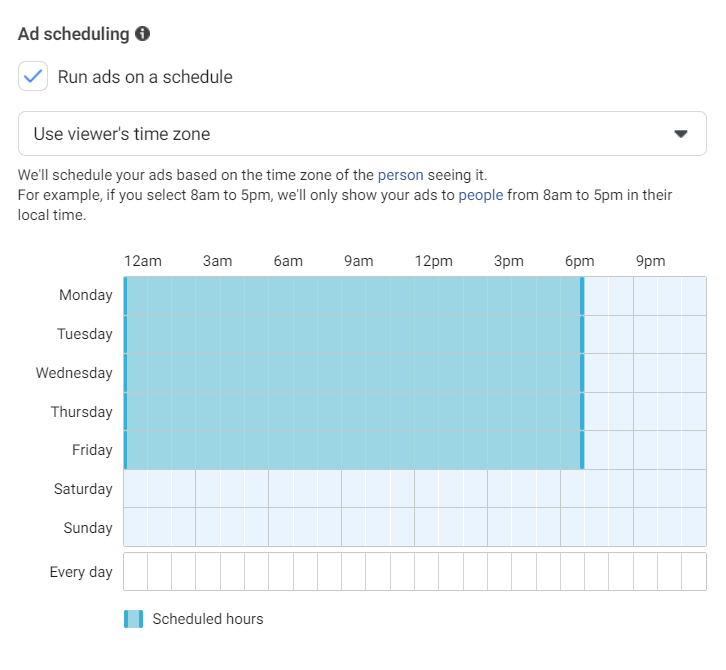 Additionally, consider utilizing marketing tools like 360dialog's campaigns, which can automate responses and handle messages outside regular business hours. This ensures a smoother and more effective engagement process.
Recommendations before launching your ads
It's important to avoid situations where your business has to manage an overwhelming number of conversations manually. Also, you don't want to spend money on untrackable campaigns.
These scenarios can be avoided by using marketing automation and conversation analytics features. And the best analytics and automation tools in the market are built on top of the WhatsApp Business API.
So before launching your ads campaign, ensure that you have access to the following:
WhatsApp Business API account with 360dialog
Access to a WhatsApp marketing automation tool
Access to an analytics tool for WhatsApp
Admin access to a Facebook page
Access to Meta's Ad Manager
Here are the steps needed to create ads that click to WhatsApp.
How many WhatsApp numbers can you use for click to WhatsApp ads?
As of the time of publishing this article, only one WhatsApp number can be linked to a Facebook page, and therefore, only one number can be used for ads that click to WhatsApp on the page.
To connect your Page and WhatsApp account:
Login to your admin account and go to your Facebook page
Click on Settings
Tap Linked Accounts.
Click on WhatsApp.
Select your country code and enter your WhatsApp Business number.
Tap Send code to WhatsApp.
Follow the on-screen instructions to finish connecting your WhatsApp account.
Things to keep in mind while creating WhatsApp campaigns in the Meta Ads manager
Click-to WhatsApp ads are only available in the Facebook ads Manager for campaigns with these 3 objectives:

Traffic
Engagement
Sales

While setting up your Ad set, ensure the conversion location is set to "Messaging apps", and check the box next to your WhatsApp number for "Messaging apps". The rest of the options can be configured exactly like other Facebook campaigns, where you choose your audience, assign a budget, and upload the ad creatives.
Another option Facebook provides is setting up a template or a prefilled message that users can use to initiate a conversation with your business on WhatsApp.
You can follow this tutorial video that covers all the required steps to create ads that click to WhatsApp campaign on Facebook.
To summarize:

On the Ad Set level:
The conversion location should be "Messaging apps"
Ad type should be "Click to message."
On the Ad level:
Call to action should be: Send a WhatsApp message
A message template should be created and selected
Tracking can be set with UTM parameters
See the step-by-step guide to create a CTWA ad here.
---
Key takeaways
Here are the most important points to keep in mind if you're considering using ads that click to WhatsApp
– Click-to WhatsApp ads are a powerful tool for driving marketing results, with many companies achieving exceptional conversion rates and return on ad spend (ROAS).
– Benefits include reduced marketing conversation costs, precise audience targeting, higher ROAS, and conversion rates.
– Combining click-to-WhatsApp ads with marketing automation tools, like 360dialog's campaigns, optimizes results by automating personalized responses and tracking performance.
360dialog's Insights
Track the performance of your Click to WhatsApp ads and allocate budgets based on ROAS.
Audience acquisition with ads that click to WhatsApp
Bulk messaging campaigns & marketing automation
Full WhatsApp funnel tracking & analytics