Best Practices for Ads that Click to WhatsApp
June 20th, 2023 — by Bruna M.
7 min read
Share this article
By following the best practices for ads that click to WhatsApp below, businesses can create more effective and impactful interactions with customers. This can result in improved customer engagement, higher conversions, and better marketing outcomes.
Create a seamless user experience
How people view Facebook ads that click to WhatsApp
Is the ad setting the expectation of a chat? Ads that Click to WhatsApp often feature Business-as-usual creative assets with a Click to Action button underneath. This makes the journey from ad to chat appear disconnected, eventually leading to suboptimal engagement. Below you can see an image showing the order in which the viewer's attention goes: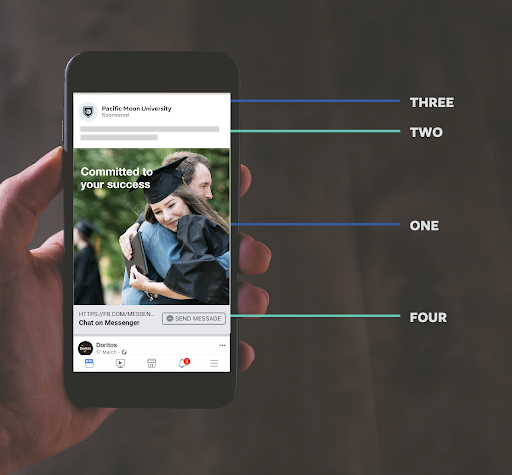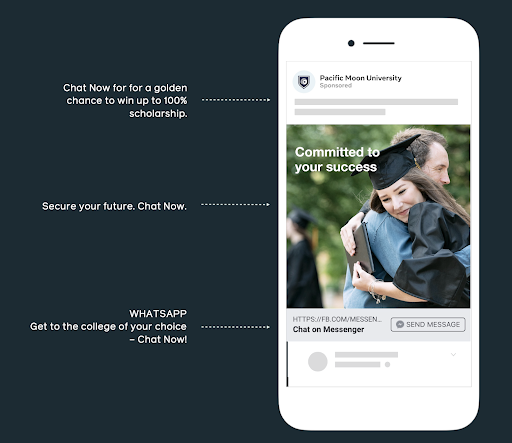 Tips for an effective chat experience on WhatsApp
Make sure your ad clearly indicates that users can engage in a chat conversation. Sub-optimal engagement can occur when the ad and chat experience appear disconnected.
Use ice-breakers to set the context and build a seamless bridge or handover from the CTWA ad. For example: "Hi! Welcome to <Brand + Project name> Let us find you a dream home today!" or "Hi, let's make your money work harder by investing with <brand name>"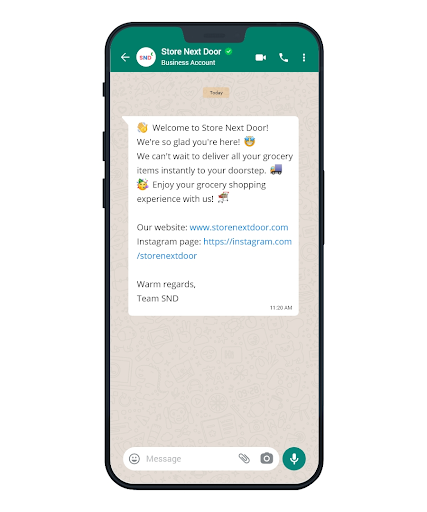 Incorporate qualifying questions to improve lead quality and gather relevant information and reiterate the utility of your product or service to nudge users along the journey.
For example, an online retailer runs a click-to-WhatsApp ad showcasing their latest collection with a "Chat Now" button. The ad visuals and messaging align with their brand image, seamlessly transitioning from the ad to the WhatsApp conversation.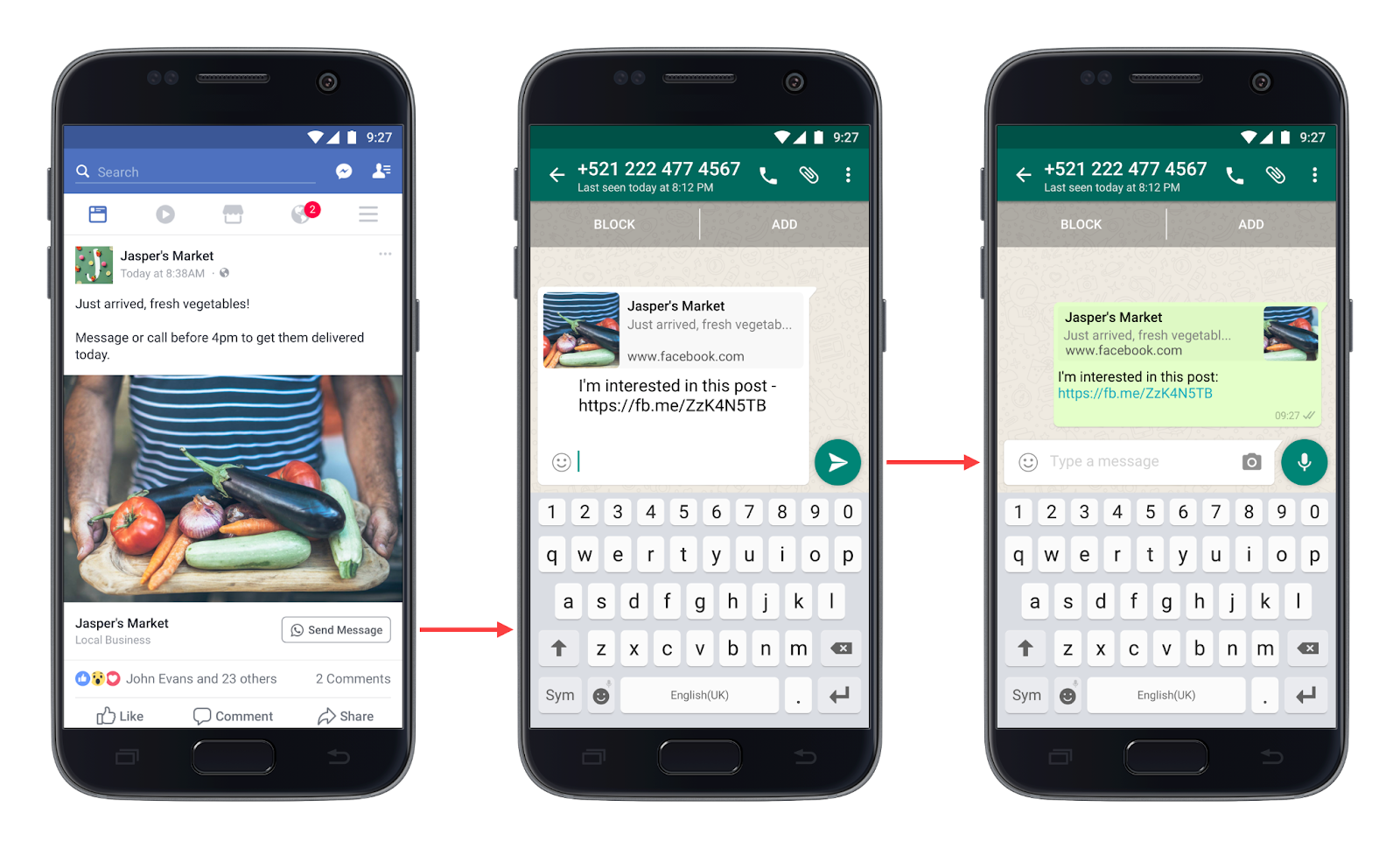 Frameworks for crafting engaging messages
Use different messaging approaches to engage users in a chat conversation. Ready-to-use messaging frameworks can help you create more conversational CTWA ads.
Framework #1: "Provoke Resolve Chat" – Make a bold pitch to prospects and provoke them to take action.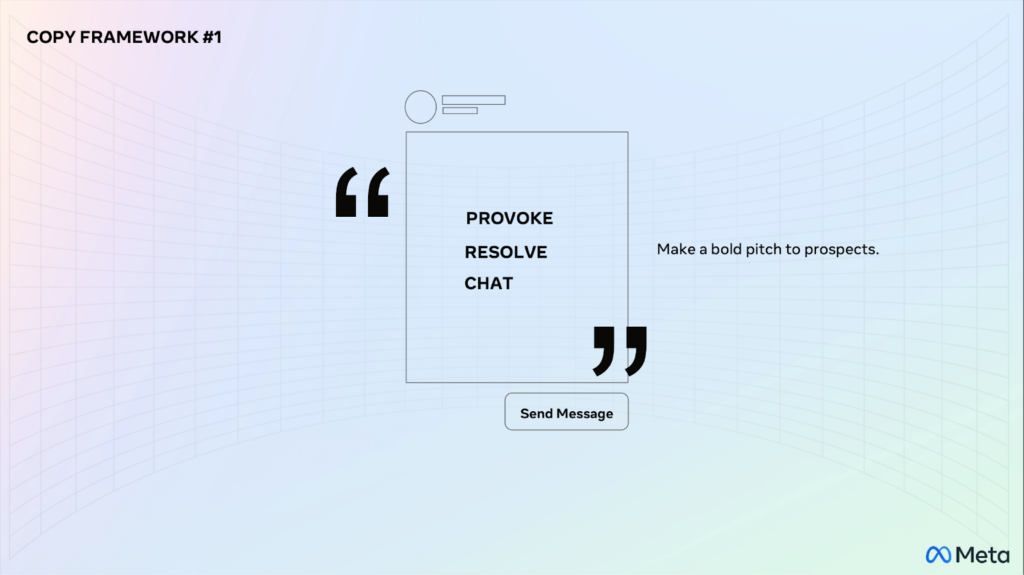 Framework #2: "Attention Benefit Chat" – Use curiosity to turn passive consumers into active chat participants.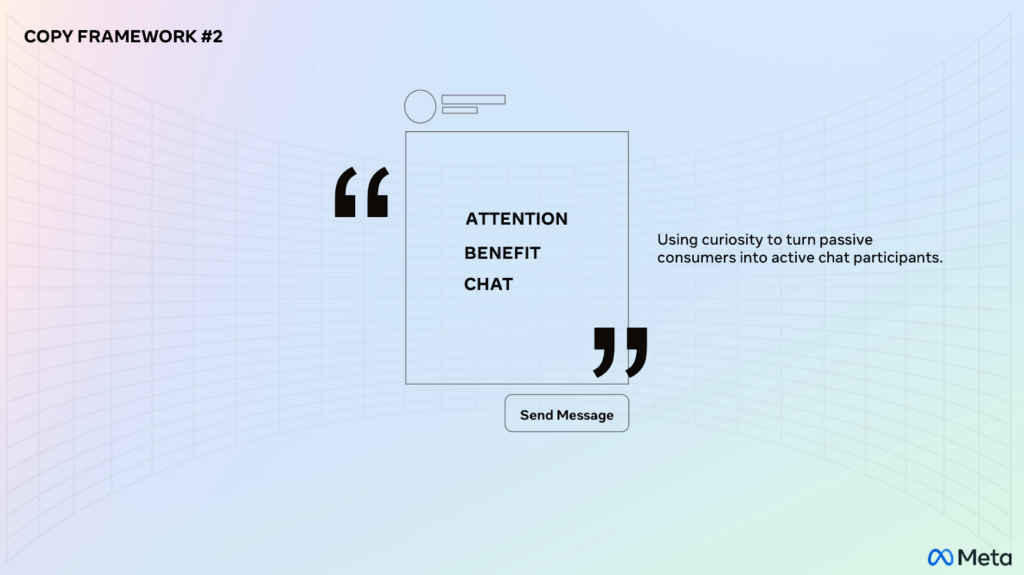 Framework #3: "Problem Solution Chat" – Empathize with your customer's problems and offer solutions.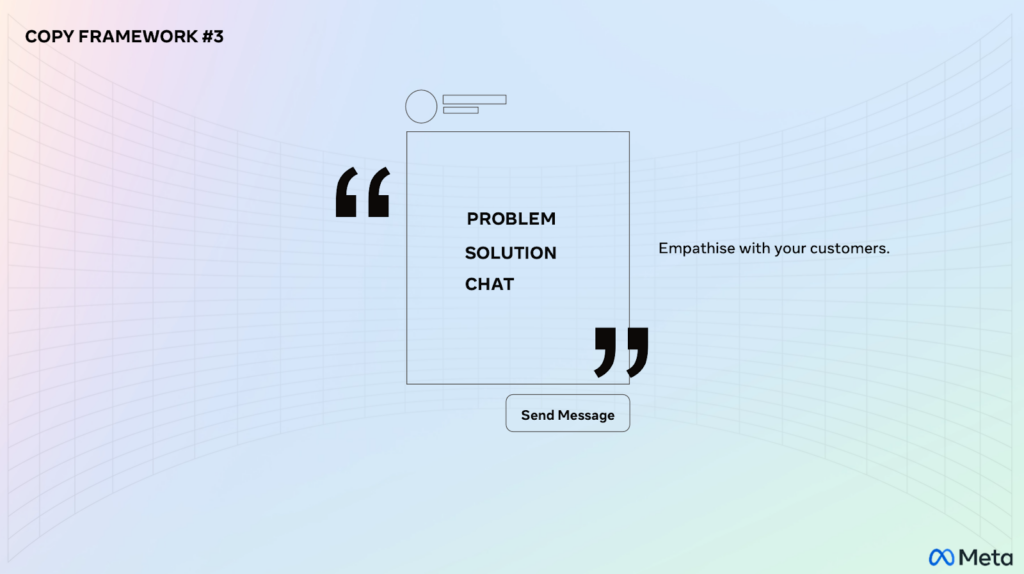 Consider the Ad Ecosystems for different industries
Tailor your messaging to the specific industry and its target audience.
For example, a language learning platform runs Ads that Click to WhatsApp in the EdTech ecosystem, offering a free trial and personalized course recommendations. By understanding the specific needs and pain points of students, they attract more leads through WhatsApp conversations.
Some specific ecosystems are:
EdTech Ad Ecosystem: Use messaging lead-ins such as free registration, scholarship offers, and easy access to attract potential students.
HealthTech Ad Ecosystem: Focus on incentives, reassurance, and cost benefits to encourage users to engage in a chat for consultations or appointments.
FinTech Ad Ecosystem: Gather basic information to provide suitable insurance or investment plans tailored to users' needs.
Use Ad placements & formats to maximize performance
Utilize various ad formats to reach a wider audience. In order to maximize delivery and performance, develop a toolbox of assets (like a mix of video and images) that can run across all available placements.
Recommended formats include a 9:16 video & image for Facebook Stories, 4:5 video for Facebook News Feed, Facebook Marketplace, and Instagram Feed, and 1:1 image for Facebook News Feed, Facebook Marketplace, and Instagram Feed.
For example, a fashion brand creates video ads for Facebook Stories, showcasing their latest collection in a visually captivating format. Utilizing the optimal format for each placement increases engagement and drives more WhatsApp conversations.
Engage users by quickly capturing their attention
Grab the audience's attention from the beginning. Some quick tips are:
Start your ads with captivating moments to immediately grab users' attention.
Incorporate branding early to create brand recognition and association.
Put your main message or offer front and center to communicate the value proposition clearly.
For example, an electronics retailer runs an Ad that Clicks to WhatsApp featuring a stunning visual of their flagship smartphone with a limited-time discount. By capturing attention with the striking image and highlighting the discount, they entice users to initiate a WhatsApp conversation.
Don't rely on sound
When using videos, make your ads visually appealing and understandable, even without sound.

Some quick tips are:
Start with your most captivating moments
Create an engaging copy using text and graphics to deliver your message
Incorporate your branding early
Put your hero front and center
Tell your story visually
Try captions layer on content
Highlight key elements and feature products
Explore vertical frames
For example, a food delivery service creates an Ad that Clicks to WhatsApp that showcases mouth-watering food images and overlays them with text describing their various cuisines and quick delivery. Even without sound, users can understand the value and convenience through visuals and text.
Use the Facebook Mobile Studio and Creative Hub to simplify ad creation
Use mobile tools and creative mockups to simplify the ad creation process and generate attention-grabbing ideas.
Mobile Studio: Create Mobile First Ads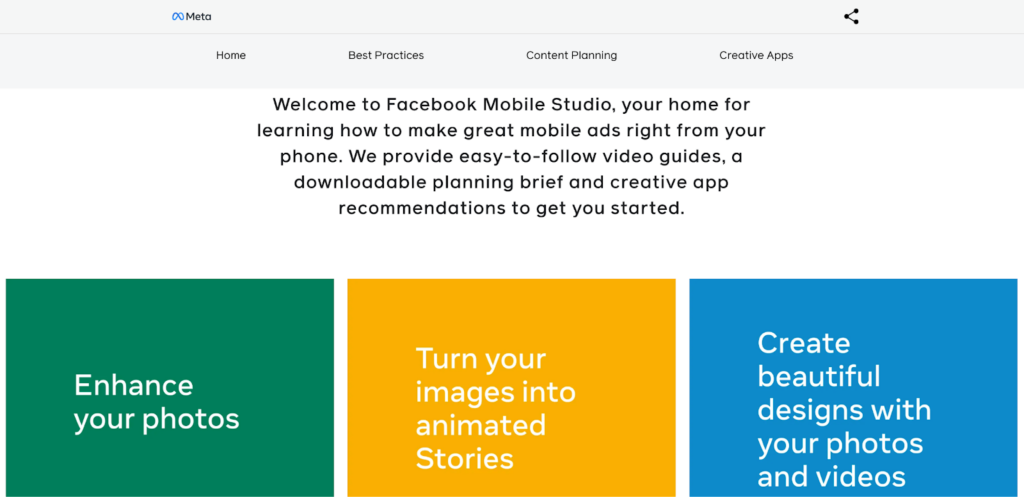 With the Mobile Studio, learn how to make great ads directly from your phone with video tips, a planning brief, and app recommendations.
You can find great Mobile ad best practices, such as:
Core basics

Add your logo
Craft a single-minded message
Inspire action with a strong CTA

Adding motion

Animate text
Build simple animation

Optimizing video for mobile

Capture attention in the first 3 seconds
Keep video length under 15 seconds
Design for sound off
Shoot vertically or for square
Creative Hub: Build mockups
The Creative Hub allows for a faster and easier way to produce ideas that capture attention and delight people on mobile platforms. Be inspired, explore possibilities, create mockups, and share your ideas effortlessly.


For example, a small business owner can utilize Creative Hub to explore different ad formats and designs for his click-to-WhatsApp campaign and the Mobile Studio in order to check if it's adequate for mobile devices. By experimenting with various ideas and mockups, they optimize their ads for maximum impact.
Reinforce your value proposition
Reinforce the value proposition of your product or service to keep users engaged.
Continually remind users of the value and benefits they can gain by proceeding with the conversation or taking the desired action.
Emphasize how your product or service can solve their problems or meet their needs.
Highlight unique features, special offers, or exclusive benefits to maintain user interest.
For example, an e-commerce platform uses Ads that Click to WhatsApp to promote a limited-time sale. Throughout the conversation, they emphasize the exclusive discounts, fast shipping, and hassle-free returns, reinforcing the value users can gain by making a purchase.
Build a good chatbot flow
Building a well-structured chatbot flow is crucial for delivering a seamless user experience and achieving the desired outcomes. In this guide, we will explore three different industries—Real Estate Lead Generation, Edtech, and FinTech—to provide journey flow guidance for each. By understanding the specific requirements and objectives of these industries, we can create effective chatbot conversations that engage users and drive successful outcomes.
Some examples of important parts of the chatbot flow are:
Welcome message
Hi! Thank you for getting in touch. What can we help you with?
Hi, welcome! We're here to help you choose the perfect product for your needs. Please select one of the following options to start.
Opt-in request
Click on Continue to allow us to reach out to you via Whatsapp in the future.
Please click on yes to receive news and promotions in the future via WhatsApp.
Data validation
Please give us your name and date of birth so we can identify you
Please enter your query or choose from the following options:

Account inquiries
Product information
Technical support
Customer service
If the data is incorrect:
I'm sorry, but the email address you provided is invalid. Please enter a valid email address.
Hello! We need your confirmation regarding [specific action].
Re-engage
Hi there! It looks like you've been away for a while. Is there anything else I can assist you with?
Hello! Just a friendly reminder that we're still here to help with your previous question. If you need any further assistance, please don't hesitate to ask.
I'm still here to assist you! If you have any questions or need help, just let me know. I'll be happy to jump back into the conversation.
It seems you may be busy at the moment. Remember, I'm always available to assist you whenever you're ready. Just drop me a message or visit us at www.greatcompany.com. Have a great day!
In conclusion, incorporating these best practices for Ads that Click to WhatsApp is not just a recommendation but a strategic imperative for your campaign's success. By seamlessly connecting your ads to chat conversations, engaging users with compelling messaging frameworks, and tailoring your approach to specific industries, you have the power to captivate your audience and drive meaningful interactions. With the ability to leverage different ad formats and placements, you can reach a wider audience and maximize performance.
Additionally, by reinforcing your value proposition and building a well-structured chatbot flow, you can create a persuasive and seamless user experience that leads to higher engagement, better lead quality, and, ultimately, greater business outcomes. Embrace these best practices and unlock the full potential of your Click to WhatsApp campaigns.
Launch your Facebook ads that click to WhatsApp today!
Get access to 360dialog's WhatsApp Business API solutions and start leveraging ads that click to WhatsApp with premium automation features!
Free with 360dialog's WhatsApp Business API
WhatsApp Marketing automation
Full funnel tracking and measurement