WhatsApp Marketing Automation
Powered by 360dialog's Official WhatsApp Business API
Create efficient WhatsApp marketing automation flows with 360dialog and optimize your WhatsApp sales funnel!
Automated bulk messages via the official WhatsApp API
Personalized messages based on user's location and preferences
Newsletters and promotions via WhatsApp
Sign-ups through Interactive Messages and QR codes
Easy Opt-out with keywords and automated interactive messages
WhatsApp Marketing Automation for Enterprises
Making WhatsApp campaigns unignorable!
Launch your automated WhatsApp marketing campaigns with the full technical support of 360dialog's Marketing Automation team.
Custom WhatsApp Channel setup
WhatsApp Green Tick Verification assistance
Tailored opt-in methods (QR codes and interactive messages)
Automated messages workflow creation
Campaign KPIs tracking and analysis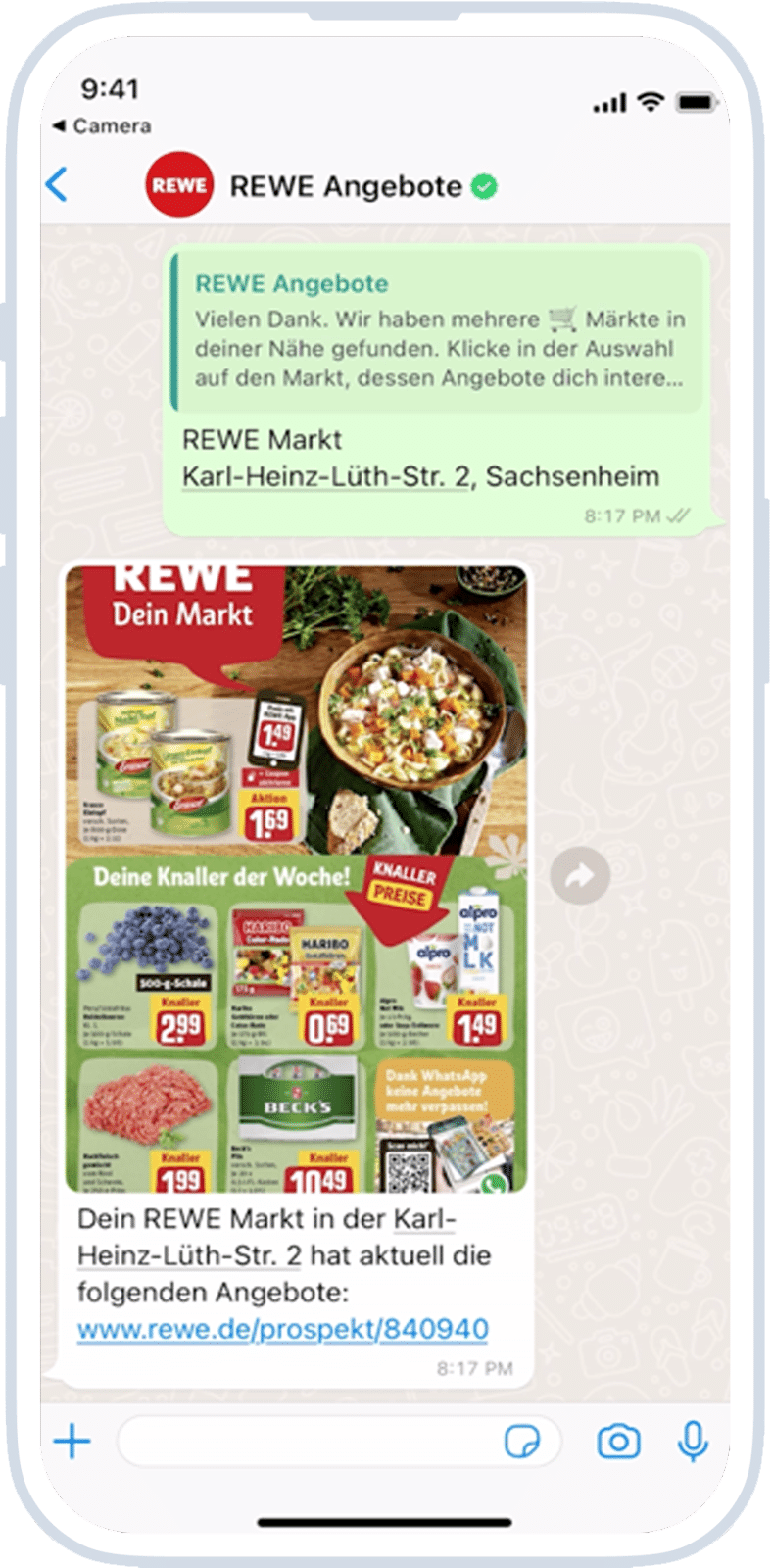 Generate more sales through Marketing Automation
Send thousands of WhatsApp messages to well-targeted audiences with 360dialog's Marketing Automation solution.
Keep a list of 10,000+ subscribers updated with your latest news and offers via WhatsApp.
The 360dialog team provides a comprehensive WhatsApp marketing automation solution

1. Onboarding with 360dialog
Set up the WhatsApp Business Account and define all entry points and templates that must be sent.

2. Define the subscription Process
Define the logic for customers to subscribe to the platform and receive messages periodically.

3. Campaign creation
Define the campaign's details, including messages, scheduling, and the filtering criteria for subscribers.

4. Campaign execution
Deliver messages to subscribers at the scheduled date and time while monitoring the campaign's health.

5. Campaign statistics
Monitor KPIs and deliver campaign statistics such as conversion rate and open rates.
Reach your target audience effectively
360dialog creates automated WhatsApp marketing campaigns based on well-defined use cases tailored to reach target audiences effectively. Enterprises can define the following:

Frequency of messages
The schedule and frequency of sending messages (Daily, Weekly, monthly)

Region and Location
Offers based on the region of each store based on postal codes provided by users

Messages' Format
The format of messages to be delivered to the customer (Simple text, Images, PDF, and URLs)
Ads that click to WhatsApp
360dialog's WhatsApp Marketing Automation fully integrates with Facebook and Instagram Ads that click to WhatsApp.

WhatsApp Account activation in a single minute.

Ads Creation in less than a minute, based on a new AI by Meta.

Best-practice automation templates for lead-gen, transactions, and promotions – all ready to use.

360dialog's Tracking Engine is integrated with Meta Insights API and Conversions API.

Full Account and Campaign Activation in less than 5 minutes.
The 360dialog platform makes ads that click to WhatsApp accessible to On-premises API users, along with WhatsApp marketing automation and funnel tracking.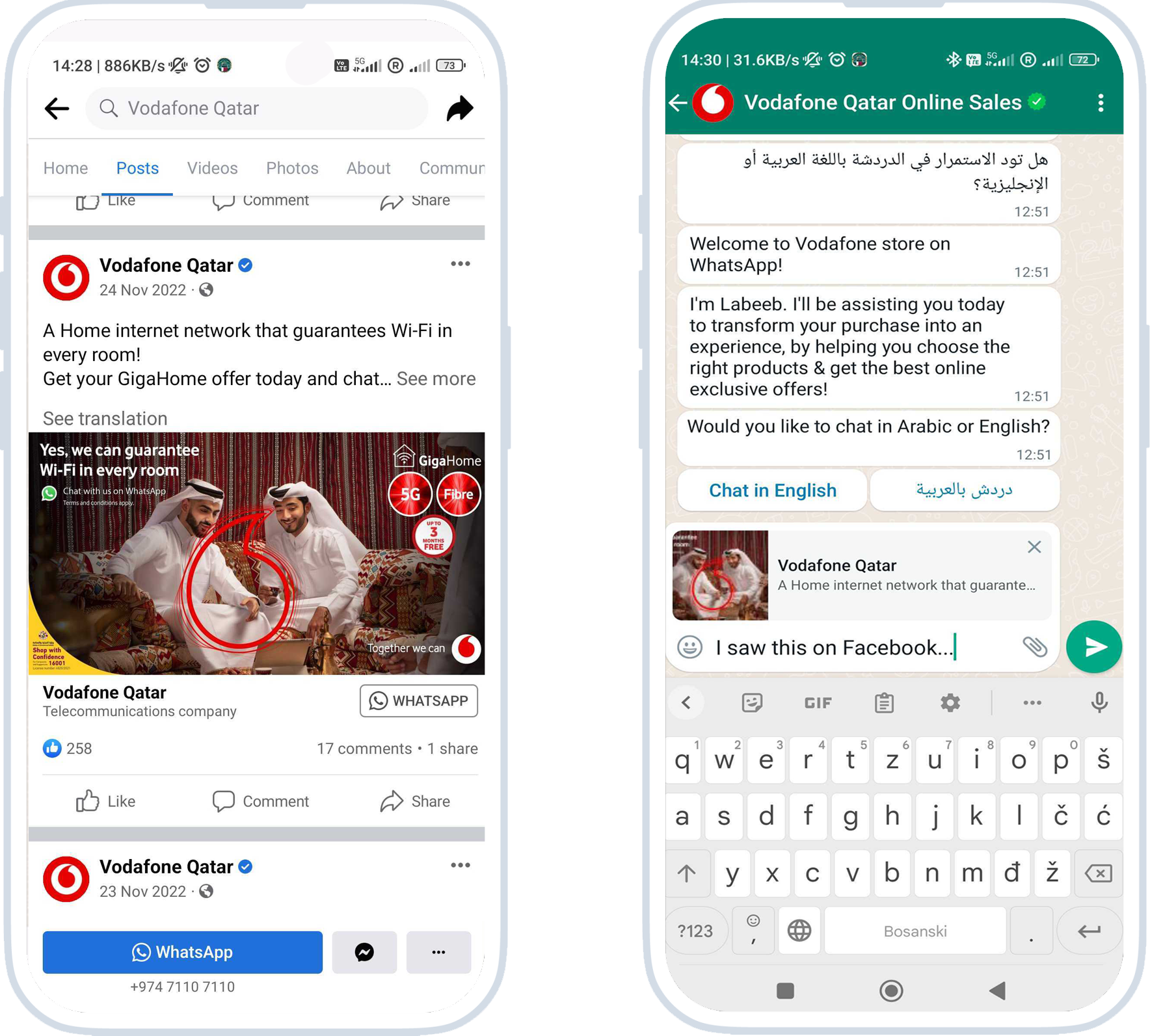 Full Funnel Tracking Available
Improve your ROI with 360dialog's WhatsApp Dynamic Funnel Automation
360dialog enables users to keep track of all the relevant KPIs and optimize WhatsApp messages and automation flows for a better ROI. Users get access to:
WhatsApp business analytics
Customer profiling tools
Personalized customer engagement solutions
WhatsApp conversion rate tracking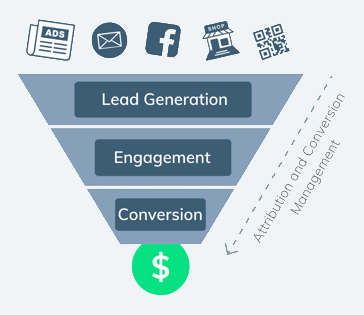 Automated WhatsApp Messaging
360dialog's WhatsApp API & Messaging Platform provides a robust base to make WhatsApp marketing automation and bulk messaging easy and professional.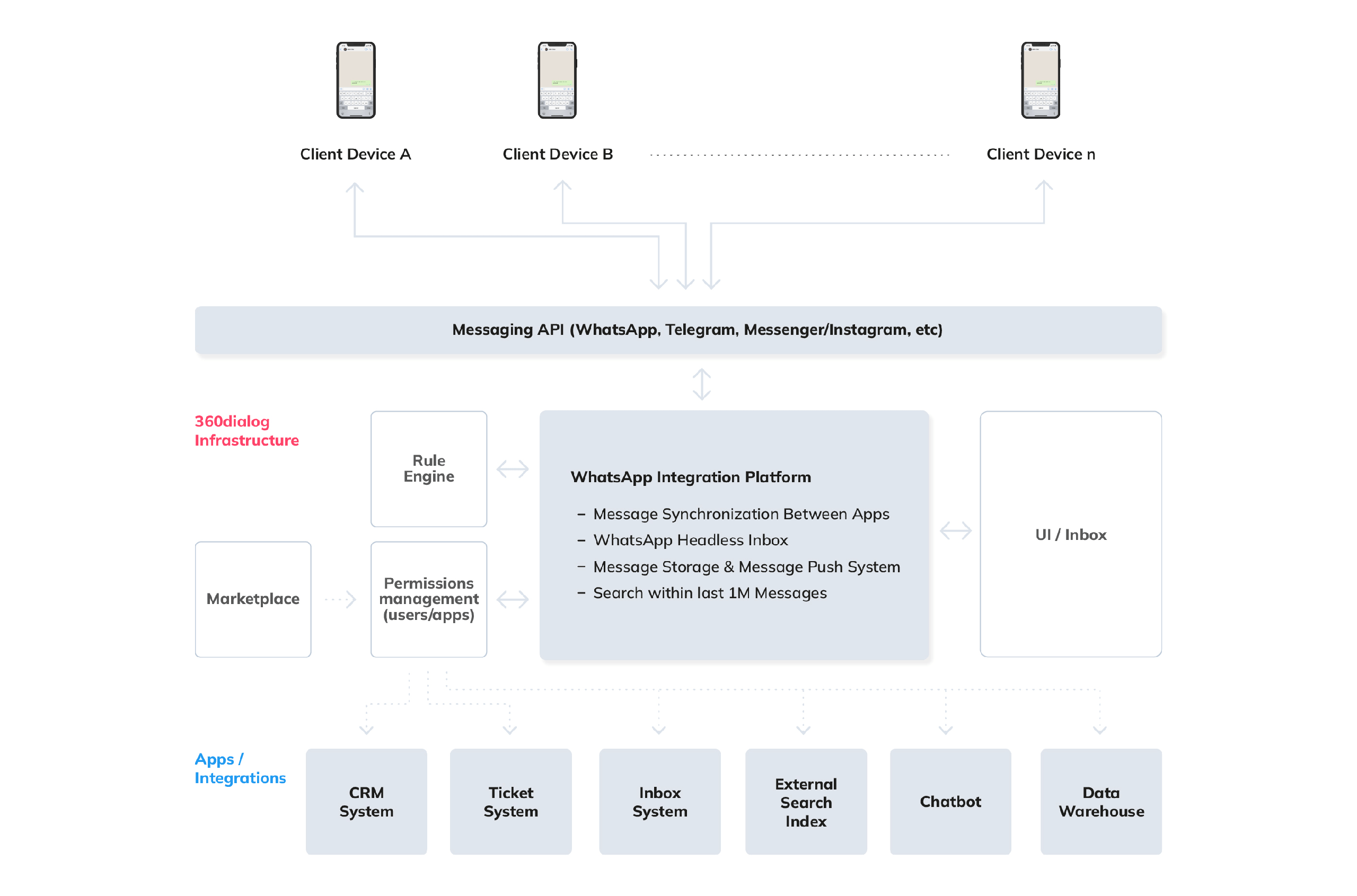 ---
Success Story
Carrefour Group
Carrefour wanted to offer its printed promotional catalogs digitally to offset production costs and better target customers based on region and preferred store location. The retailer wanted higher engagement, better customer service, and to learn shopper behavior more accurately.
35%
higher engagement compared to email
3
minute average engagement time with digital promotions
75%
of customers using the Carrefour app already use WhatsApp
Their Solution
Coupons at the touch of a button
Before adopting the WhatsApp Business API, Carrefour's catalogs – which support 50% of the company's revenue – were offered solely in print format, which was expensive to produce and difficult to manage based on constantly changing products and in-store promotions.
Given how WhatsApp is widely used among the French population – including 75% of those who already use the Carrefour store app – it was clear to Carrefour that adopting the platform could better connect the company to its shoppers.
Working closely with business partner 360dialog and digital messaging hub Alcméon, Carrefour adopted the WhatsApp Business API to create a customized chatbot that enables customers to input their zip code and find their nearest store.
They receive a digital promotion catalog directly through WhatsApp specific to the location where they shop, tailored to weekly deals, seasonal promotions, and other offers that help them save money and plan their shopping.
Going forward, the company plans to extend its use of WhatsApp to enable customers to provide feedback directly through the app, implement logistics and food delivery notifications, and overall extend its services to its thousands of locations globally.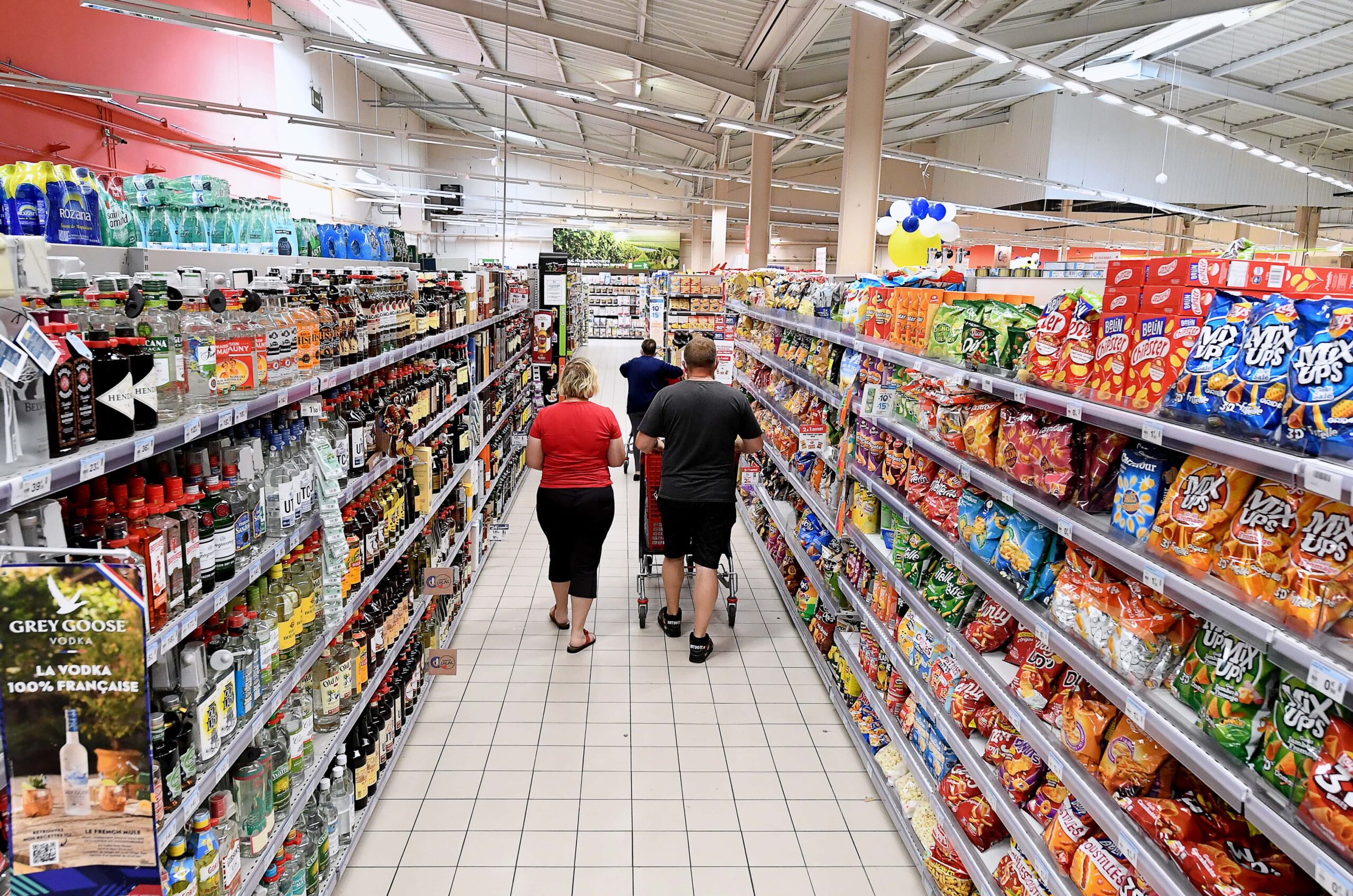 Their Success
Smiles in the aisles
45% of Carrefour WhatsApp users engage with the digital catalog, compared to 10% of customers who open the catalog through email.
Customers engage with the digital catalog for an average of 3 minutes, improving upon the print catalog that lacked customer insight.
75% of customers using the Carrefour app also use WhatsApp, so many customers already understand the technology.
Your Trusted WhatsApp Business Solution Provider
Fill out the form and let 360dialog help you create a tailored marketing automation formula for your brand:
---

Official API by WhatsApp for sustainable channel growth

Your data hosted by a verified channel partner

GDPR-compliant data hosting

Secure end2end messaging

Direct access to the global WhatsApp team