WhatsApp CRM Integration through the Business API
All-in-one API for WhatsApp! Connect your WhatsApp CRM activities with Salesforce, HubSpot, Pipedrive, Bitrix24, amoCRM, SugarCRM, and Dynamics, with the most relevant messenger channel. Integrate WhatsApp Business with CRM tools, and manage all of your contacts and leads in one place. And it's all possible with the API from 360dialog.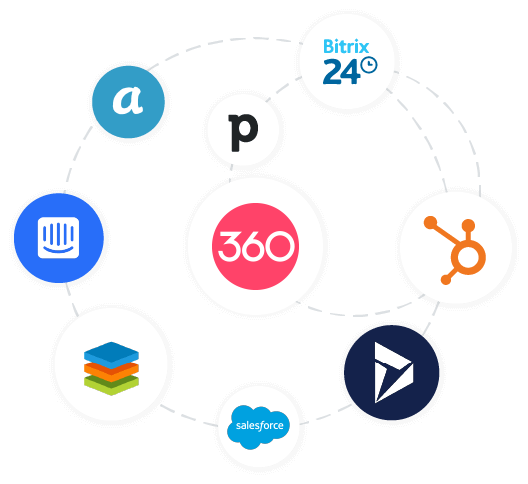 Our integration partners connect to your CRM needs!
No matter, if it is Salesforce, HubSpot, Pipedrive, Bitrix24, amoCRM, Intercom, SugarCRM, or Dynamics, the 360dialog WhatsApp API integrates easily and quickly with your CRM system. 360dialog's strong partner network will help you integrate WhatsApp with CRM platforms and tools that suit your need!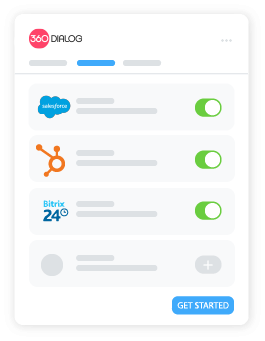 CRM Integrations
Connect all messenger data (phone number, name, chats, etc.) to existing CRM profiles and Contact Center-Solutions

WhatsApp Notifications
Enable personalized WhatsApp messages from your CRM, whether Salesforce, HubSpot, Pipedrive, Bitrix24, amoCRM, Intercom, SugarCRM or Dynamics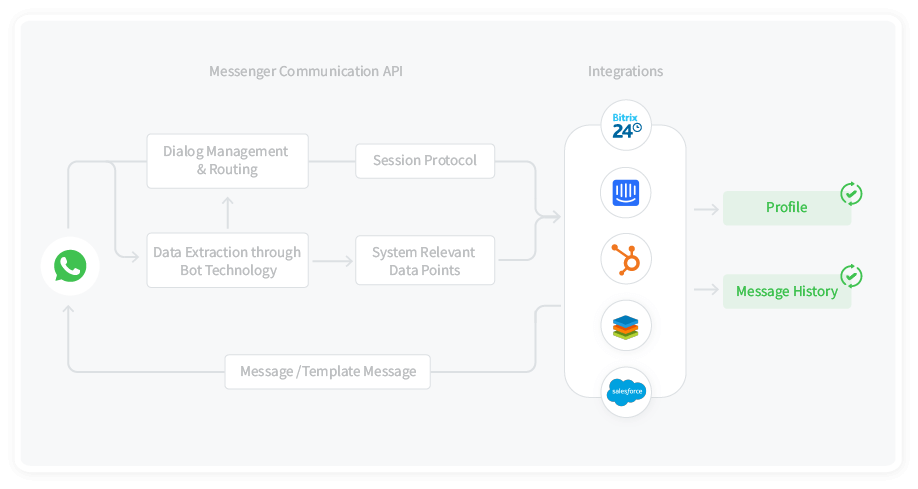 CRM Connector
Advantages of 360dialog API Integration
Fast connection of CRM and Messaging activity
Inbox-Integration available
Standard integrations, HubSpot, Google People API, etc.
Any chatbot solution can be integrated
Efficient workflows by synching & rule engine
Load balancing of messages
WhatsApp and HubSpot Integration Use Case
The following example shows how to register WhatsApp contacts in HubSpot, send WhatsApp messages through the direct chat feature, and record messages as timeline events
How WhatsApp and HubSpot integrate to create CRM workflow automation
HubSpot is one of the most powerful tools when it comes to inbound marketing, sales, and services.
When you integrate the 360dialog WhatsApp API and HubSpot through get.chat, the information of customers who contact you gets automatically imported into HubSpot. This means that when you receive a message, the username and phone number of the person that contacted you get automatically added to the contacts in HubSpot. From there, the contact can be assigned to a team member, it can be added to a list, or used for any other marketing purposes.
By integrating WhatsApp and HubSpot through get.chat you can register contacts, record messages as timeline events and respond to WhatsApp messages on HubSpot.
---
Use 360dialog iPaas to sync between different integrations
With the 360dialog integration layer, in- and outgoing message data can be automatically transferred between different applications to provide your customers with the best possible customer experience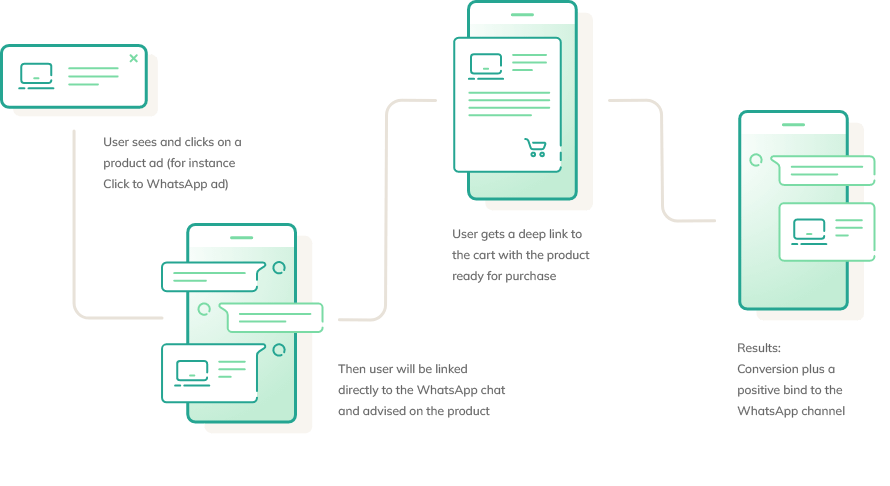 Your WhatsApp Business Solution Provider
Offer your clients the benefits of relevant and convenient services via the WhatsApp Business API with an official WhatsApp Enterprise Account
---

Official API by WhatsApp for sustainable channel growth

Your data hosted by a verified channel partner

Hosting of your data in Geman data centers

Secure End2End Messaging

Direct Acces to the global WhatsApp team