Enable WhatsApp Automation with the Business API
The 360dialog WhatsApp API Integration enables your business to create WhatsApp automation flows. This makes it possible for your business to Increase your customer communication with automated bulk notifications via WhatsApp.
As an official WhatsApp Business solution partner 360dialog has built an unique network of software vendors plus an underlying solution to make WhatsApp marketing automation and bulk messaging easy and professional.
Connect your existing systems and applications to the 360dialog platform easily with our API. Use our integration platform to integrate all technical solutions with messengers like WhatsApp and to sync all your contacts and messages in all apps. Relevant data for messenger communication has never been connected so quickly!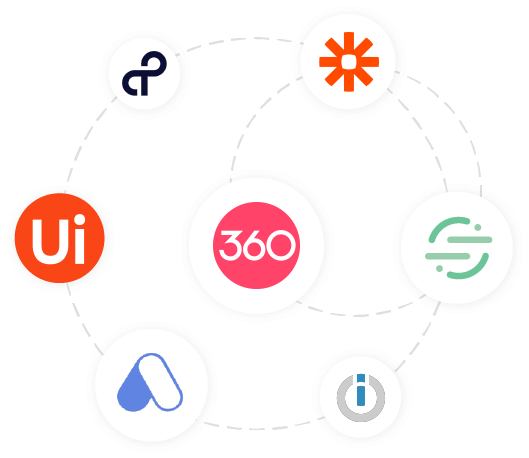 WhatsApp automation made simple
Connect marketing automation, chatbot & CRM tools to your needs to get the best out of your messaging campaigns!
No matter if workflow tools like Zapier, Segment, Integromat or CRMs like Hubspot, Pipedrive, Salesforce are connected to the 360dialog WhatsApp API: All customer data integrates easily and quickly between your system landscape and WhatsApp. Or better: You can use our Integration & Syncing Platform to integrate Messaging with several applications directly.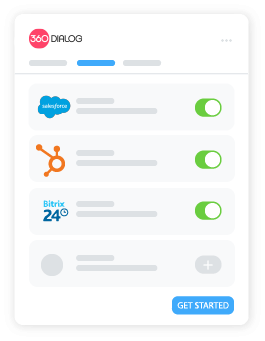 Manage Your Messaging Campaigns Easily
Scheduling keyword or segment based notifications, WhatsApp push notifications are in best hands with 360dialog

Flexible Messaging & Contact Data Synchronization
Forward and synchronize all or selected messaging or contact data via API or CSV upload to and between your existing systems with minimal technical effort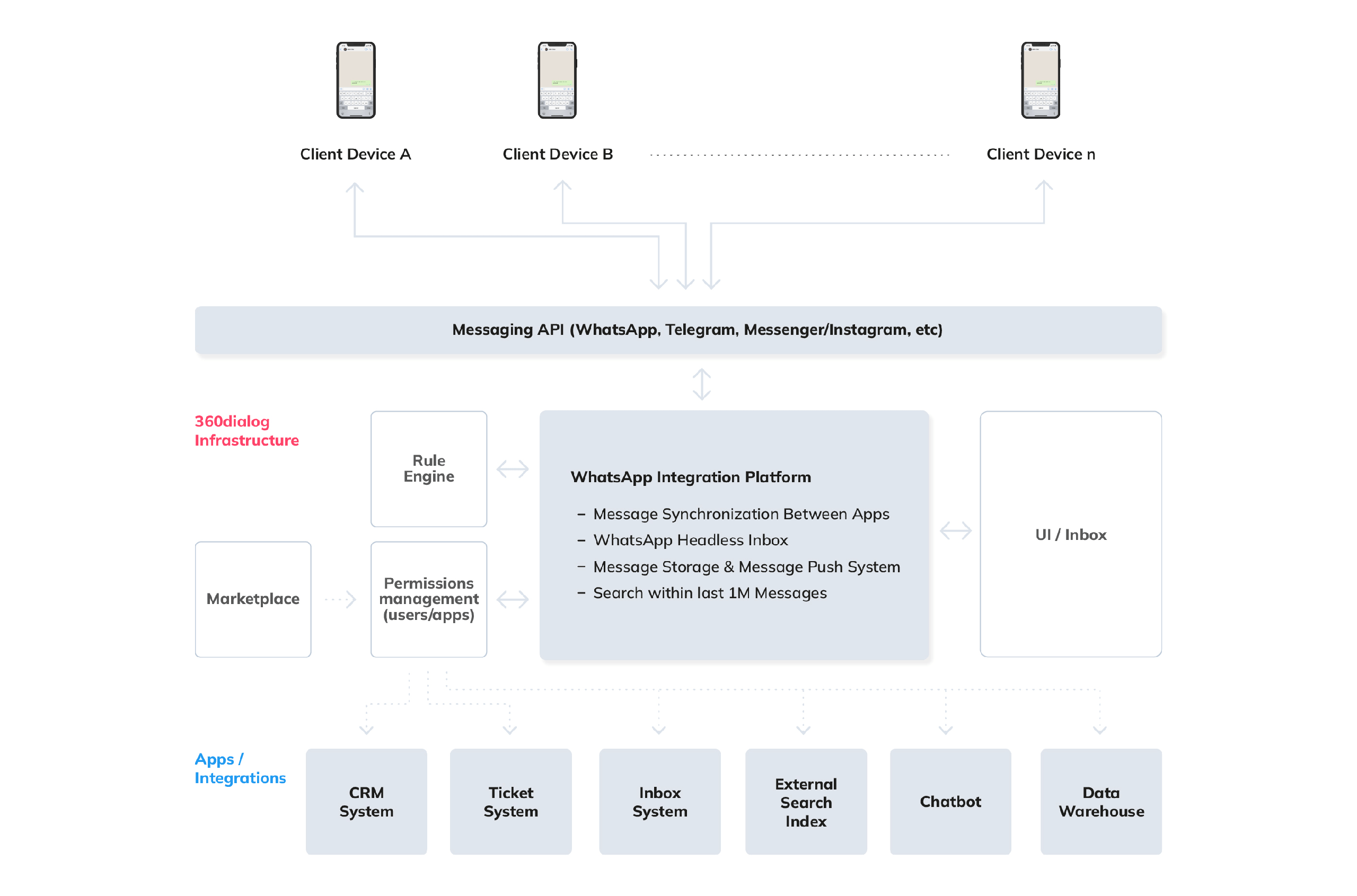 Data Connector
Advantages of 360dialog WhatsApp API & Messaging iPaaS as a robust base for WhatsApp automation:
Fast connection of existing systems and applications
Message sync between apps
Flexible data selection for messenger communication
Message data workflows connected to most relevant messengers
Easy integration of CRM systems, Inbox systems and chatbots
CSV-upload of customer data
WhatsApp Automation Use Case
The following example shows how to create multiple connections between WhatsApp and third-party applications such as Slack, Intercom, Gmail, Jira Service Management, HubSpot, Pipedrive and many more
WhatsApp Automation Through the Business API | 360dialog
WhatsApp automation is now made possible thanks to the Business API from 360dialog. Connect WhatsApp to automation platforms like Zapier
What are the requirements for WhatsApp automation through Zapier?
Currently, a native integration between Zapier and WhatsApp is not available. Therefore, it is not possible to integrate WhatsApp directly with other applications via Zapier at the moment. But you can achieve this by fulfilling these requirements:
Get access to the WhatsApp Business API from 360dialog
Access to get.chat's team inbox and Integration
Access to Zapier
get.chat's integration API acts as an extension to the WhatsApp Business API, and enables the integration with Zapier. Those three act as the bridge that connects your WhatsApp Inbox to other solutions and enables you to automate workflows.
---
Success Story
Carrefour Group
Carrefour wanted to offer its printed promotional catalogs digitally to offset production costs and better target customers based on region and preferred store location. The retailer wanted higher engagement, better customer service, and to learn shopper behavior more accurately.
35%
higher engagement compared to email
3
minute average engagement time with digital promotions
75%
of customers using the Carrefour app already use WhatsApp
Their Solution
Coupons at the touch of a button
Prior to adopting WhatsApp Business Platform, Carrefour's catalogs – which support 50 percent of the company's revenue – were offered solely in print format, which were expensive to produce and difficult to manage based on constantly changing products and in-store promotions.
Given how WhatsApp is widely used among the French population – including 75 percent of those who already use the Carrefour store app – it was clear to Carrefour that adopting the platform could better connect the company to its shoppers.
Working closely with business partner 360dialog and digital messaging hub Alcméon, Carrefour adopted the WhatsApp Business Platform to create a customized chatbot that enables customers to input their zip code and find their nearest store.
They receive a digital promotion catalog directly through WhatsApp specific to the location where they shop, tailored to weekly deals, seasonal promotions, and other offers that help them save money and plan their shopping.
Going forward, the company plans to extend its use of WhatsApp to enable customers to provide feedback directly through the app, implement logistics and food delivery push notifications, and overall extend its services to its thousands of locations globally.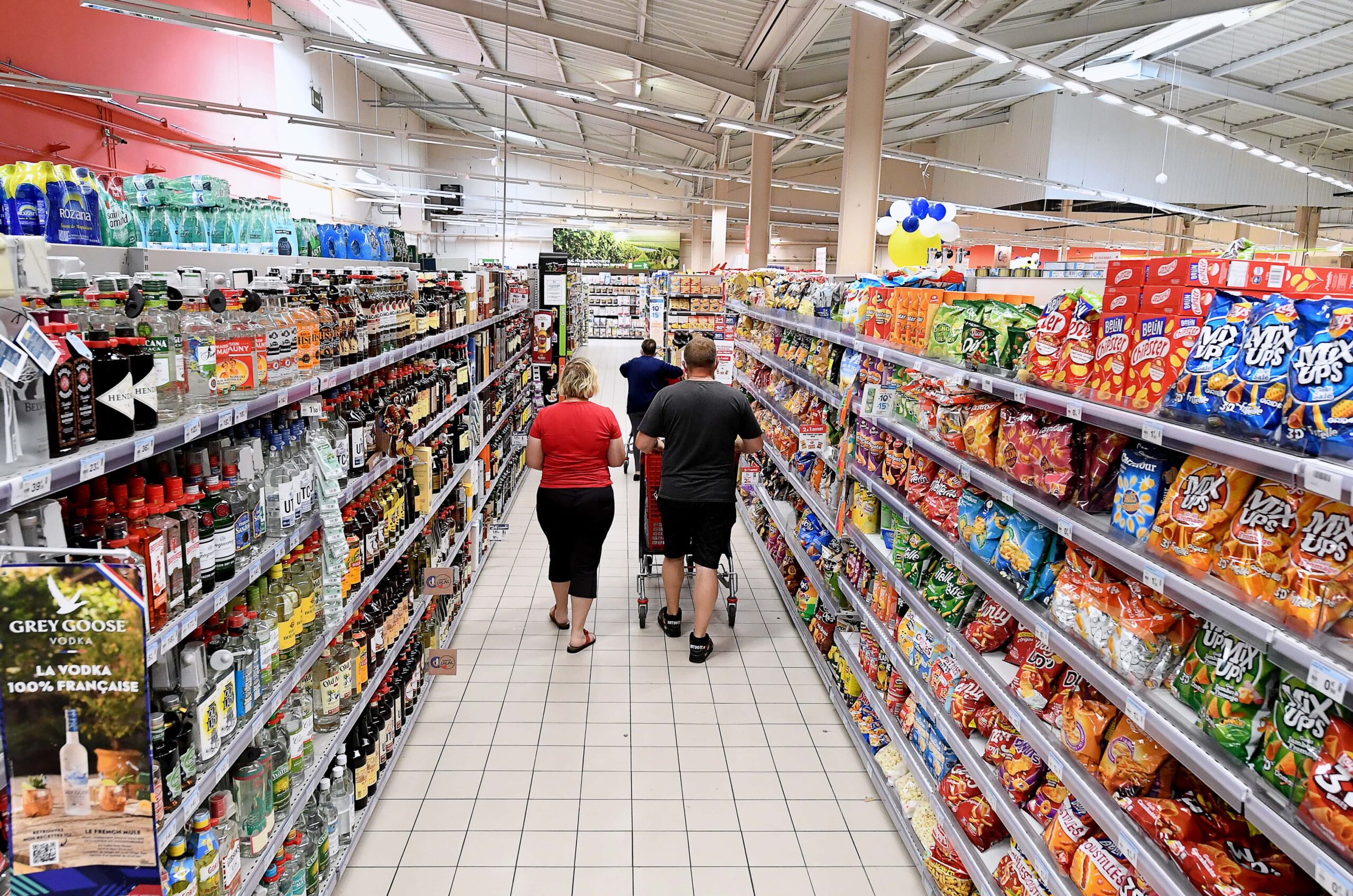 Their Success
Smiles in the aisles
45% of Carrefour WhatsApp users engage with the digital catalog, compared to 10% of customers who open the catalog through email.
Customers engage with the digital catalog an average of 3 minutes, improving upon the print catalog that lacked customer insight.
75% of customers using the Carrefour app also use WhatsApp, so many customers already understand the technology.
Our Experts Will Help You Selecting The Right Automation
Ready to get started? Fill out the form so we can have enough information to help you find the right solution for your business:
Your WhatsApp Business Solution Provider for Push Notifications
Offer your clients the benefits of relevant and convenient services via the WhatsApp Business API with an official WhatsApp Enterprise Account
---

Official API by WhatsApp for sustainable channel growth

Your data hosted by a verified channel partner

Hosting of your data in GDPR compliant data centers

Secure End2End Messaging

Direct Acces to the global WhatsApp team