WhatsApp Business Solution Providers
Which one is the best for your company?
September 9, 2022 — by 360dialog
9 min read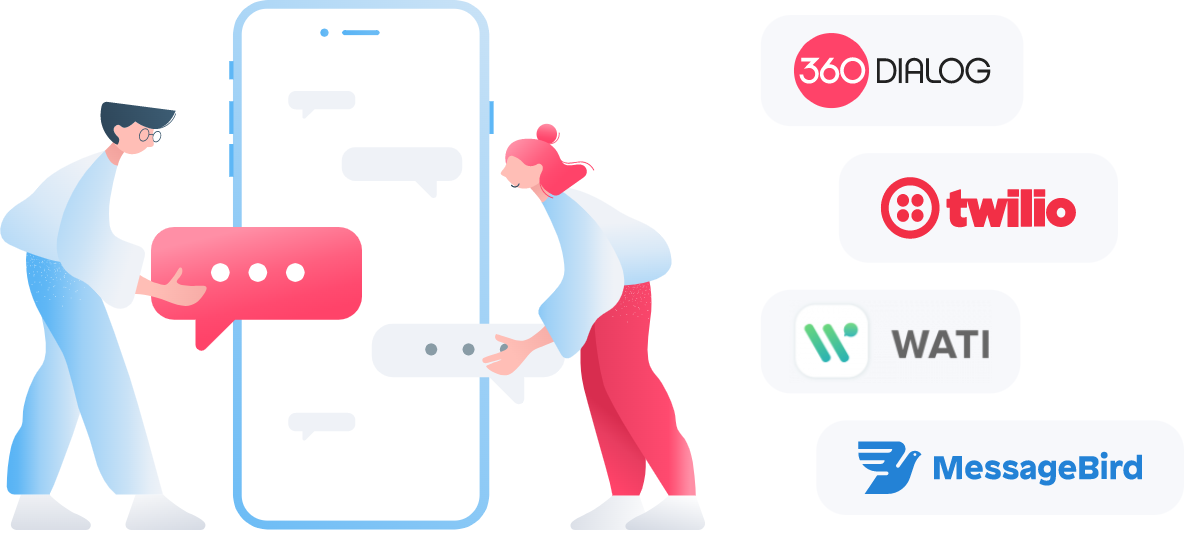 Share this article
Companies looking to access the WhatsApp Business API from Meta must go through Meta's Partners or Business Solution Providers (BSPs). Currently, there are a lot of players in the market with different pricing packages and API solutions to choose from. And while some BSPs focus on adding the WhatsApp API to their omnichannel messaging packages, others focus on providing it to partners and developers while some focus on providing user-friendly interfaces for end users. This article covers some of the top and fastest growing WhatsApp Business API providers.
BSPs in this list are not ordered by importance or company size. The blog post covers aspects such as the sign-up process, features, pricing, and the ideal users of each BSP without bias.
---

360dialog
360dialog is one of the largest and fast-growing BSPs that serves companies of all sizes, regions, and industries. At 360dialog, we specialize in providing the WhatsApp Business API for companies that are looking for reliable and cost-effective WhatsApp API access. Business users can benefit from 360dialog's robust hosting service with a developer-friendly, lightweight API at a competitive, scalable, and transparent price.
360dialog is the only WhatsApp BSP that focuses on providing the API only. 360dialog also helps companies and organizations build end-user solutions such as team inboxes, WhatsApp newsletters, CRM integration, and marketing automation.

What kind of phone number can you use?
You can use any phone number not associated with another WhatsApp account to access the API from 360dialog. That includes mobile, landline, and toll-free numbers. You can also port numbers from other BSPs or Partners to 360dialog.
Sign-up Process
The sign-up process for companies that want to access 1 to 9 APIs is pretty straightforward and simple and does not require Facebook business verification at first. 360dialog has the embedded sign-up flow implemented, which allows businesses to access the API in around 5 minutes, given that the business meets all the requirements specified by Meta and in the 360dialog's documentation. Companies that want to access a large number of APIs might need to go through a longer process to get access to the Partner Hub and the Partner API, from which they can keep track of all the APIs and sign-ups.

Pricing
360dialog has a variety of price plans and that mostly depends on whether the client is an end user or a partner that is looking to provide the API for end users. The company does offer some discounts and special tariffs for partners or businesses that need a large volume of APIs or if they meet certain requirements. However, there are only three price packages that are available publicly:

Professional €99
It's the most scalable option available for business with no limit on the frequency of WhatsApp messages.

API only (starting €49)
Unlimited messages with up to 10 messages per second.

Enterprise (starting €200)
The most high-availability package. It can process up to 10 messages per second.

Who does it suit best?

Developers and development-centric Businesses
360dialog is the ideal choice for developers or development-centric businesses. And that is because the support team focuses on documenting all the details and providing continuous support to clients and developers.

Big enterprises
360dialog has served companies like Carrefour, IKEA, Pepsico, Bayer CropScience, REWE, and Unilever. The company's support and hosting capabilities alongside the security features it provides make our solution the ideal fit for enterprises that deal with a large volume of WhatsApp data. Moreover, the solution is secure and effective for companies in the Finance and the Fintech industries that want to ensure that any transaction that involves the API is entirely safe and secure.

Small to medium businesses
360dialog provides The API only, which is a programming interface, not a messaging interface. However, the company provides the API at a cost-effective price and has a long list of partners that can provide clients with shared Inboxes, CRMs, and integration solutions. Therefore, even small to medium enterprises can benefit from 360dialog's offer.
---

Twilio
Unlike 360dialog, Twilio does not only focus on the WhatsApp API and giving access to the WhatsApp developer tools. It also provides APIs for SMS, emails, voice, video, IoT, and integration solutions.

What kind of phone number can you use?
At 360dialog you can use your own number (mobile, landline, and toll-free numbers). Twilio offers the same option but encourages you to get a number from them for around $1 per month, depending on your region.
Sign-up Process
The sign-up process of Twilio is similar to that of 360dialog; however, it is not as fast. While the sign-up process with 360dialog takes 5–15 mins, the sign-up process for Twilio takes 2–5 days only to submit your WhatsApp sender for approval. Moreover, while not required by 360dialog, Twilio requires you to complete the Facebook business verification process.

Pricing
While 360dialog offers fixed monthly or yearly rates for the WhatsApp Business API, Twilio's pricing depends on your region and the number of outgoing and incoming messages. Their package starts at $0.05 and then increases based on usage. You can get an estimate of the cost on their website.

Who does it suit best?
Twilio shares almost the same target market as 360dialog, but the company also offers bulk SMS services and APIs for email, Video, and Audio. Twilio suits companies that are looking for omnichannel messaging services and bulk SMS better. Unlike 360dialog, their main focus isn't on providing the WhatsApp Business API only but on a platform that integrates multiple communication channels. Therefore, WhatsApp Business API isn't their priority—but it's part of the package they sell. Twilio can be an ideal fit for companies that want to integrate all their communication channels into one platform. But it's not necessarily a fit for those who need to access the WhatsApp API with all its features.
---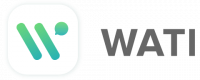 Wati.io
Wati.io is the WhatsApp division of Clare.AI, a company that specializes in artificial intelligence, neuro-linguistic programming, and several other messaging APIs like Messenger, WeChat, and Line. WATI specializes in WhatsApp solutions, and unlike 360dialog, it doesn't focus on providing the WhatsApp Business API only — it also provides a messaging interface (Shared Inbox) alongside other CRM and sales integrations.

What kind of phone number can you use?
Just like 360dialog, WATI allows clients to use any phone number, even if it was previously registered as a WhatsApp account, as long as the number has been disconnected.
Sign-up Process
The sign-up flow for WATI is pretty straightforward. It is a six-step process that involves selecting a payment plan and filling in your business information. And while the process itself doesn't take too long to complete, the approval process can take up to one week.

Pricing
WATI's plans start from $40 per month (annually) and Include multiple features like a shared inbox, chatbot builder, integrations, and multiple agent access. And they also charge a flat rate per message and conversation depending on the region and whether the latter is user or business initiated.

Who does it suit best?
WATI is ideal for businesses that don't necessarily have development capabilities and want a frontend interface to send and receive messages, and ready-to-use integrations. WATI goes beyond just providing the WhatsApp Business API and has a wide range of solutions and integrations that might be useful to some businesses. However, there are a lot of independent software vendors who provide similar platforms and integrations, such as respond.io, get.chat, Trengo, and Superchat. These can integrate with BSPs such as 360dialog or Twilio using the WhatsApp API.
---

MessageBird
MessageBird provides a wide range of API and messaging solutions, and the WhatsApp Business API is one of them. It focuses on Omnichannel messaging solutions, just like Twilio, and provides a shared inbox similar to that of WATI.

What kind of phone number can you use?
MessageBird allows users to use either a Virtual Mobile Number (VMN) from them (not available in all regions) or their mobile or landline numbers. Of course, just like with the previous BSPs, if a user decides to go with their numbers, they must disconnect it from any other WhatsApp Account.
Sign-up Process
MessageBird requires you to sign up with your business email address and answer a few questions about your business to create an account. Accessing the WhatsApp Channel with MessageBird requires you to go through ten steps that involve registering your Facebook ID, verifying your WhatsApp number, and connecting it to your MessageBird Account. MessageBird doesn't estimate the time it takes to register your WhatsApp number in their documentation, but installing the WhatsApp channel should take up to ten minutes.

Pricing
MessageBird provides multiple pricing options, including a free one for startups. Their tiers grant access to all their messaging channels, including WhatsApp. However, they do charge per conversation when it comes to WhatsApp conversations based on region. They charge an initiation fee and a "MessageBird fee" per message. For example, businesses in the USA have to pay a $0.0147 initiation fee + $0.005 MessageBird fee for Business Initiated conversations and a $0.0088 initiation fee + $0.005 MessageBird fee for user-initiated conversations.

Who does it suit best?
Just like Twilio and Clare.AI, MessageBird focuses on providing an Omnichannel messaging solution for businesses. Their solutions include an inbox solution, with multiple agent seats and a flow builder. They also provide multiple support and coaching plans. So MessageBird seems to be the ideal solution for businesses seeking an omnichannel messaging solution with pricing that depends on the volume of messages sent and received. The solution is also developer friendly, and just like the previous BSPs, they have served companies of all sizes.
---
Final Verdict
Which BSP is the best?
There are currently a lot of BSPs on the market, and there are some that we didn't mention — like Vonage, Infobip, and Sinch. Each Business Solution Provider has its point of focus, support levels, messaging rates, and pricing plans. Choosing one is highly subjective, and it highly depends on use cases. For example, if you want a Shared team Inbox that can be integrated with HubSpot you can either go for WATI or 360dialog and one of its partners. But if you are looking for an omnichannel solution that involves sending bulk SMS Twilio or Messagebird can be a more suitable option.
At 360dialog, we focus on providing the WhatsApp Business API only and dedicate all of our resources to ensure that our API always features the latest releases and is performing at the highest level while documenting all the features and changes for developers. We are constantly working on strengthening our relationships with partners to provide them and their end users with a good user journey by enabling multiple integrations with our Business API.