WhatsApp Business Solution Provider
360dialog is an official WhatsApp business solution provider. But what exactly does that mean and what can brands expect from the WhatsApp Business API today and in the future?
CEO Gerrit Rode has given in the article WhatsApp Business API is 6 months old: An interim balance on mobilbranche.de first insights into the application possibilities and the enthusiasm for WhatsApp in Europe.
WhatsApp Business API
The WhatsApp Business API offers a whole range of relevant enhancements and associated possibilities to establish personalized communication.
It is important to understand the role of WhatsApp Business solution providers. The solution providers enable a supervised and resource-efficient setup of the WhatsApp Business API, which otherwise would have to be hosted in their own infrastructure.
The WhatsApp Business solution provider acts like a kind of API hub, enabling brands to get started on the WhatsApp Business API very quickly, as the infrastructural requirements are completely covered by the solutions provider.
Business Profile
Through the WhatsApp Business API, companies present themselves with business profiles, so that the end-user has direct contact with the brand at any time directly from the chat. There are two types of Profiles. The Business Account and the official Business Account (OBA). Below you can see the difference, in Phonenumber versus Displayname as well as the green checkmark badge, that is subject to "official" Accounts.
Free vs Chargeable
There are two formats for messages that can be sent via the WhatsApp Business API. Free text & multimedia messages can be sent within a 24-hour window after the user sends a message to the business to initiate the conversation. These messages are free.
Template messages (predefined text modules) must be used as soon as the so-called "session" (after 24 hours) has expired. These text modules have to be released by a sharing process on WhatsApp and are chargeable. The prices vary per country and can be requested from us.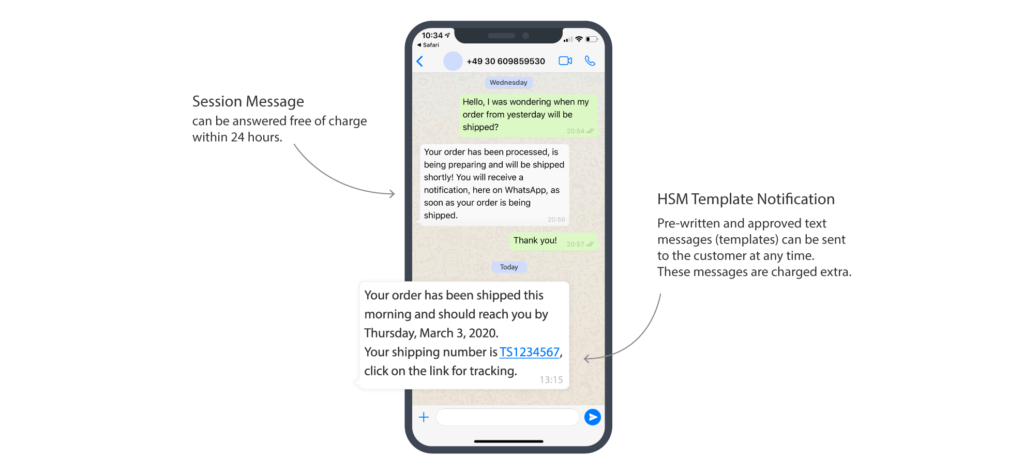 If you're interested in learning more about the WhatsApp Business API and identifying Use Cases in the area of customer ​​service, CRM & sales communications, feel free to contact our team of experts.